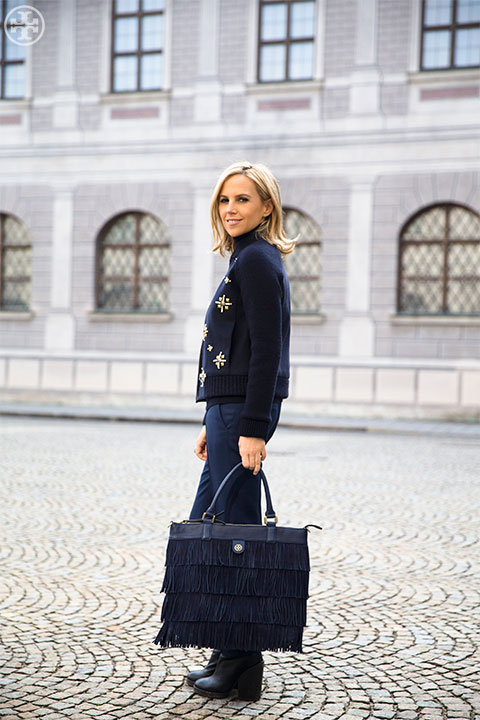 What inspired this collection?
It started with the armor my parents collected. The references are subtle, whether in the mix of textures or in tapestry brocades and florals.
Describe the shapes and colors…
We focused on clean, strong silhouettes with bold embellishments. This is really where the idea of armor comes in — shapes that cocoon with chain, cross and stone details. There is a faint riff on a Medieval motif. The color palette is moody, from loden and burgundy to grays and blacks.
Your signature is the special details…
I love little surprises. Like the Wendy pullover I'm wearing here, with the fringe tote bag. It's quilted and embellished with mirrors, crystals, beads and metallic sequins.
Talk about the prints and patterns.
I love the materials we used for fall. Textured brocades and jacquards — some with a masculine dragon pattern, which we then played against decorative florals and paisleys. Even if the look is subdued, we added something special, like embroidery and beadwork.
What can we expect for accessories and shoes?
We translated these ideas into beautiful bags and shoes — belts with chain details and lace-up ghillies that, on the runway, we styled with textured wool knee-high socks. A little sexy. The bag I'm wearing here, meanwhile, is a take on our classic Robinson satchel but done in navy and green woven leather, which feels fresh for summer and beyond.
Shop the Fall 2014 Collection.