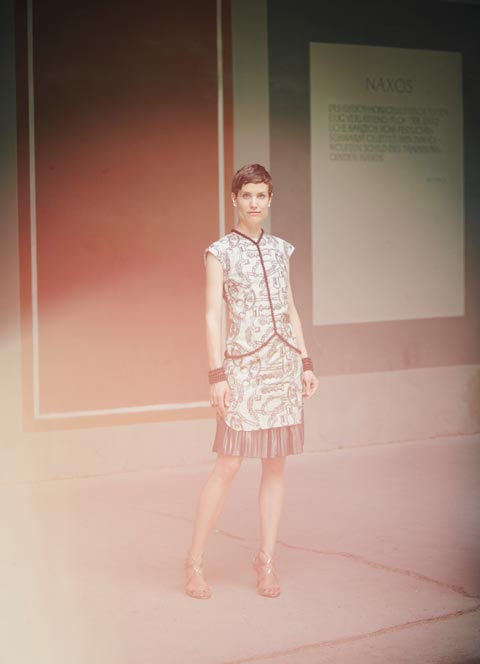 We're big fans of Munich jewelry designer Saskia Diez. When it comes to her designs, she thinks out of the proverbial bijoux box, in a supremely elegant, minimal and artful way — whether metal collar necklaces that "melt" into delicate gold chains or full-body jewelry like the beaded piece seen here, layered over Tory's Mia dress and Audra skirt. In our exclusive Q&A, she gives Tory Daily her expert guide to navigating her home country, from the best places to visit to her personal German beach escape.

Germany is the perfect fall getaway because… 
We often have a kind of Indian summer with a beautiful light and a pureness in the air.
Style essentials no German wardrobe is without… 
Jeans, blazer and a t-shirt.
When visiting, don't forget to pack…
Your umbrella.
My guide to Munich includes…
Having a look at the surfers of the Eisbach — it's unique to see them surfing in the middle of the city — and visiting the Haus der Kunst next to that spot, where you can have a great cake or a pastrami sandwich in the Golden Bar, admiring the wall mosaics there. Walking through the Hofgarten, passing by Schumann's for a drink, stepping onto the Odeonsplatz where you can rub the nose of the lions in front of the Residenz to make sure you are lucky. Doing a little shopping at Schwittenberg, passing by Viktualienmarkt, ending up at Königsquelle for a nice dinner. And don't miss a walk along the Isar River. 
Other can't-miss cities in Germany…
Berlin, for sure, with its great variety of bars, restaurants and galleries. (Also, one of the greatest curated stores is there, Andreas Murkudis.) Cologne for its roughness. Frankfurt for its museums. And Hamburg for the harbor. 
If you love art and architecture, I recommend…
The Museum Brandhorst and the recently renovated Lenbachhaus.
And if you're a gourmand…
A group of my friends will open a new restaurant, Kismit — hopefully in the middle of October — that I look forward to very much. They'll be serving various kinds of Asian foods in a modern way, which you rarely get here, in a nice ambience. 
My personal German escape…
A little beach area at the Tegernsee, a lake that is very deep and near the mountains. The water remains rather cold, so it's a very peaceful and calm place.
One secret only a local would know… 
Spend a day in the Müller'sche Volksbad, a public bath with a hammam and sauna that dates back to 1901 and is still in its original style.