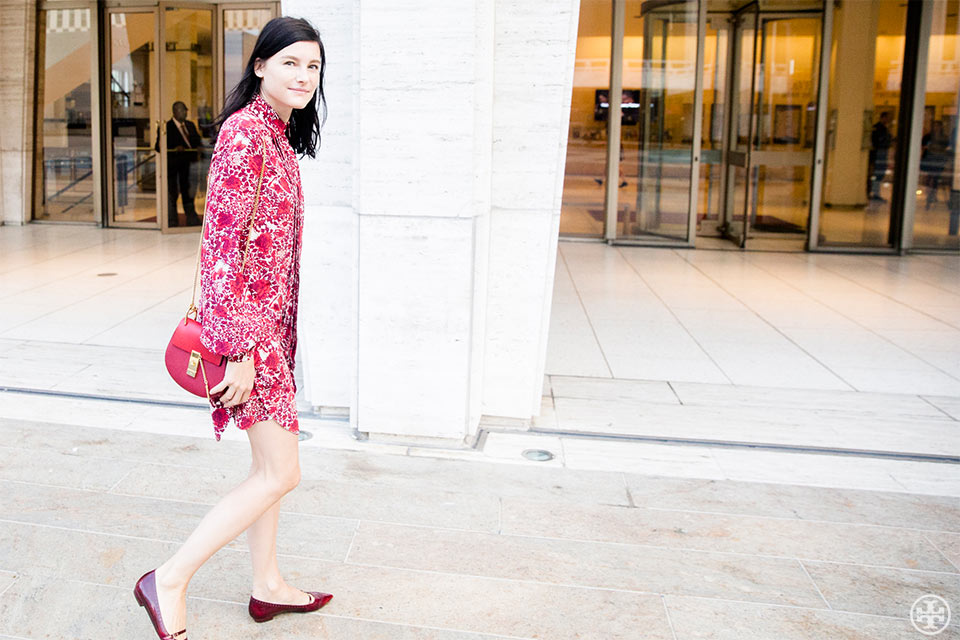 Designer and stylist Tabitha Simmons epitomizes effortless chic during the bustle of Fashion Week. We caught up with her on the way to Tory's Spring 2015 show.
First fashion memory… 
I would make up outfits in my bedroom.
Best style advice received…
Dress for your body type rather than to follow a trend.
My personal styling trick… 
Tailor everything. Fit is key to looking great.
Fall trend I'm most excited about…
Really excited about chain belts.
Favorite look from my own collection…
I love the Belfy flat from my Fall 2014 collection. With the brogue trim, it's a mix of menswear with a touch of feminine and goes well with shirtdresses and jeans.
All-time favorite piece in my closet…
A Dolce & Gabbana gold-embroidered coat. It was given to me as a gift.
My style influences and icons…
Elizabeth Taylor and Marianne Faithfull.
In this look, I'm wearing…
Tory's Cora shirtdress, a Chloé bag and my Tabitha Simmons Belfy flats.
I like this look because…
I like the easiness of the shirtdress and how it falls off the body.