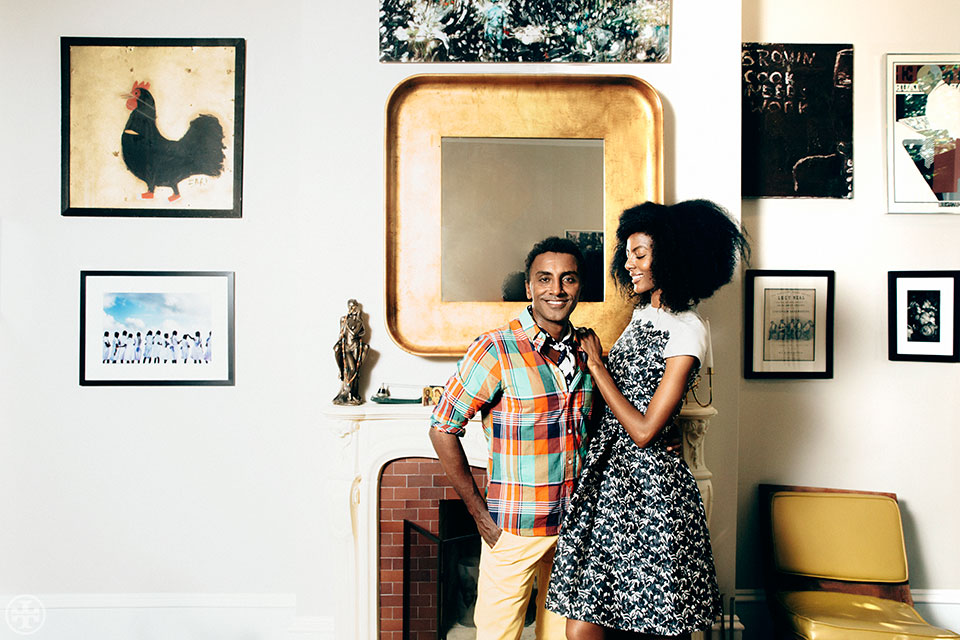 Chef Marcus Samuelsson's Swedish meatballs and steak frites, both on the menu at his NYC restaurant Red Rooster Harlem, are famous. Turns out he has the same down-home-good approach when he's off duty. This is the very idea behind his latest book, Marcus Off Duty: The Recipes I Cook at Home . In it, he divulges tips and recipes for dishes he finds to be tried-and-true at home, entertaining friends or just his wife Maya, here wearing Tory's Rayna dress.
First food memory…
My first and favorite food memories involve cooking in the kitchen with my grandmother, Helga, at her house in Sweden. I loved watching her make fish, Swedish meatballs, desserts and roast chicken, and she would always let me help. 
The dish that made me want to be a chef…
When I would go to my family's summer house in Smogen, Sweden, we would catch really fresh fish and prepare it simply for our family and friends. It was one of the first dishes I learned to make and it made me realize that being a chef has a lot to do with the quality of ingredients you work with and the company you're serving delicious and healthy food to. It is one of my first memories of being inspired by food and cooking for others. 
Favorite dish cooked by my wife Maya…
Maya makes the best Ethiopian food, hands down. But she's also a pro with unexpected dishes, like her lamb lasagna — it's made with ricotta so is gamey and creamy at the same time… a delicious twist on the Italian classic. 
First thing I cooked for Maya…
When I first met Maya, I took her to many of my favorite restaurants in the city — everywhere from the swankiest spots to my favorite hole-in-the-wall dim sum restaurants. Maya cooked a lot for me, she opened my eyes to Ethiopian culture and cooking and inspired me a lot that way. 
Guilty pleasure dinner…
A cheeseburger with fries and a beer after a hard soccer game.
One dish from Off Duty I could eat every day…
I could eat K-Town noodles every day. If only I lived in L.A., I probably would — Koreatown in L.A. has the best street food, and these noodles are a perfect way to bring that home to New York. They're easy to make and are a nice change from pasta. 
My mise en place in the kitchen…
I like to put on music while cooking at home — it makes the whole experience fun and brings people together. Cooking shouldn't be formal, and I love when my guests can watch or get involved. My book has a few suggested playlists with each chapter, everything from Tribe Called Quest to Paul Simon. It's always nice to have a chilled glass of white or a cold beer alongside you while you're cooking at home, too. Remember, you're off duty, after all. 
Favorite meal at a friend's restaurant…
Just like the rest of New York City, I love the chicken at Jonathan Waxman's Barbuto. He's a great friend of mine, and I still would love to know his secret to that perfect dish.