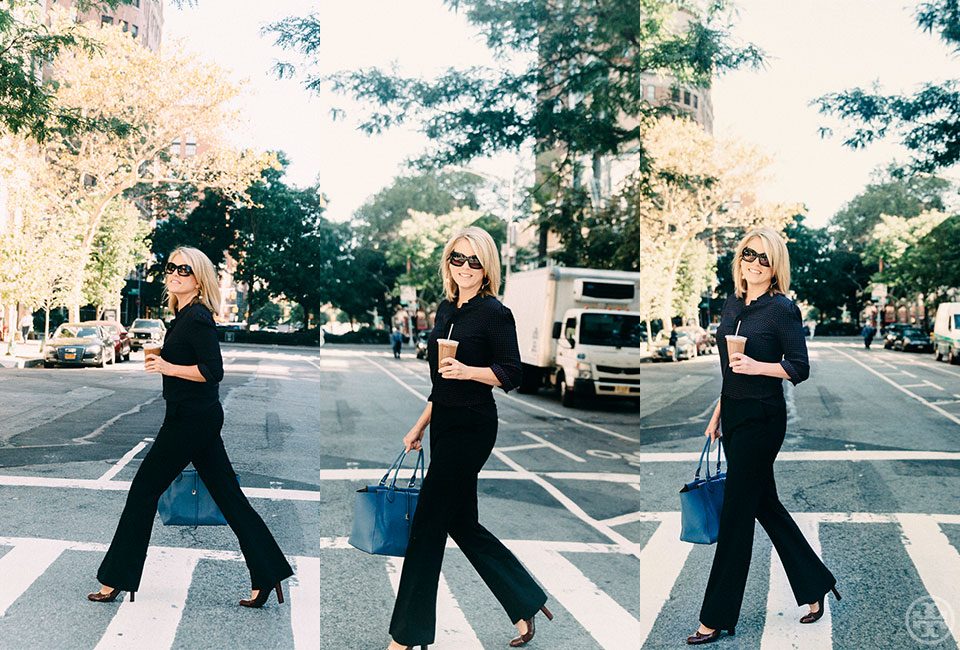 Few bring real journalist chops to the fashion world as Kate Betts, contributing editor at Time, The Daily Beast and CNN, author of Everyday Icon and one-time Paris Bureau Chief of Women's Wear Daily. Her insights about the culture, cult and business of the industry are right on. So because so many of her news outlets deal with the very issue of time or time span, we thought we'd ask Kate — here wearing Tory's Angelique blouse — about the very subject, how she keeps it, organizes it and, on the rare occasion, wastes it for fun.
Favorite time of year…
I love the promise and back-to-business energy of September.
And time of day…
Morning. I'm an early riser, and I get my best writing done before anyone else is up.
For Groundhog Day, I'd like to repeat…
The first year of both of my children's lives. I didn't appreciate that time because I was working so hard. And I remember people saying, "Enjoy this time; the years fly by." Oh, how right they were!
If I could time travel to any particular moment in history…
Belle Epoque Paris. Those Impressionists — Manet, Monet, Renoir, Cabaillot — they were the first real fashion reporters.
If I had more time…
I would train and run in the NYC marathon. I'm not even really a runner, but I love the idea of running through all five boroughs. I'm a New Yorker…
The time I loved most from my career…
I loved covering the Paris fashion scene for
WWD
and
W
in the late Eighties and early Nineties. Those were formative years for me. I grew up in the biz, covering the beginnings of Helmut Lang, Miuccia Prada, Martin Margiela. I just finished writing a memoir about that time in Paris. It was so formative, but in a broader sense it was also such an interesting time in fashion — before the globalization of the business, really. Couturiers like Yves Saint Laurent and Emanuel Ungaro were still around. Karl Lagerfeld was just settling in at Chanel; Christian Lacroix had just opened his house. As a young reporter, I had access to these incredible designers, and I learned so much from them. Simultaneously, a new wave in fashion was emerging — Azzedine Alaïa, Claude Montana, Thierry Mugler, Jean Paul Gaultier — they were the kings of Paris ready-to-wear! It was really a thrilling time.
How I manage my time with work, marriage and motherhood…
Not well!
When things are busy, I slow down by…
I just started a blog called Everyday Icon, and I use it to kind of slow things down, to take stock of what is going on around us in the worlds of fashion, travel, beauty, culture. And I also think a blog is a good way to share ideas, to have other people with like-minded interests weigh in.
I define a good time as…
Family + Friends + Good Food + A Little Bit of Fashion + France
Favorite movie, book and song involving time…
My absolute favorite book of recent memory is Let The Great World Spin by Colum McCann. I love it because it captures a moment in time from different perspectives and weaves them all together in the most poetic way.
The watch I wear…
My mother's Cartier Tank Française.