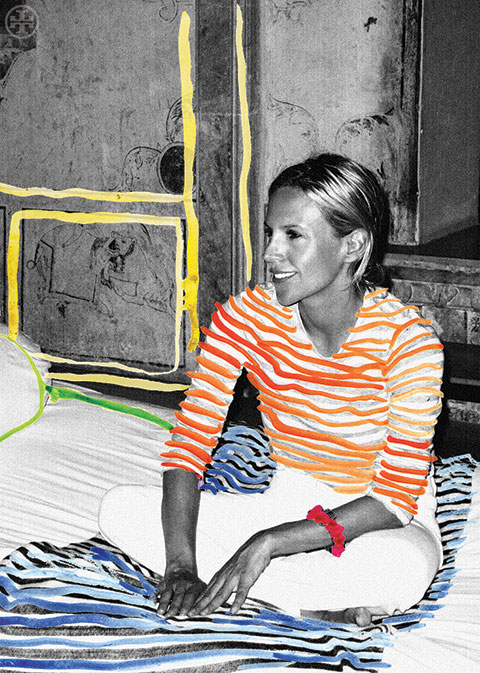 What inspired this book?
I see the world in color, and this book is a kaleidoscope of my greatest influences and experiences. It's told through images and stories of the people, places, things and ideas that inspire me.
Why In Color? What does the title mean?
In color is how I work — it's such a big part of our collection and company. I have always been sensitive to colors and other hues that complement them. But it's always the way my parents raised my brothers and me, and the way I hope I'm raising my children. To embrace differences in people and ideas, to be open and adventurous.
How is color reflected in the book?
Each chapter is a different color and has a little bit of everything that inspires us: fashion, art, travel, entertaining, music and, of course, family and friends. We wanted it to reflect what we are doing on Tory Daily, our online magazine and app. Each spread tells a different story so you can come and go as you like. It's not a biography, so you don't need to read it chronologically… or even front to back.
There are so many great people interviewed in the book. How did you choose who to feature?
Everyone featured in the book is someone we are connected to personally. They are people we admire, people doing things that inspire us. We wanted other voices and points of view… If only there were 1,000 more pages to include everyone we wanted to.
What are some of your favorite interviews?
Former Secretary of State Hillary Clinton gave us a remarkable story about how, when Chelsea was first born, she changed her company's policy in support of new moms. Jeff Koons spoke about how color affects him. The divine Deeda Blair wrote an essay about great rooms she loves and why. And there are two spreads full of quotes from people like Charlie Rose, Mindy Kaling and Christy Turlington Burns, who either gave us the best advice they received from their mothers or the best career advice they ever received.
What are some stories that fans might be surprised by?
There's the time we opened our doors in 2004 without actual doors… they hadn't been shipped yet! But I think one of the sweetest is my parents Buddy and Reva's love story. My father was a romantic, and I talk about some of the things he did to court my mother. But you'll have to read it to learn what…
What are you most excited about?
I can't wait to hear what people think about Tory Burch In Color — it's a project that our entire company has been involved in. We're also thrilled that 100% of the gross proceeds from sales of the book will benefit the Tory Burch Foundation, which empowers women entrepreneurs through small loans, mentorship and business education.
Where can we buy it?
It's available right here on toryburch.com as well as Amazon and Barnes & Noble and at specialty stores around the country.