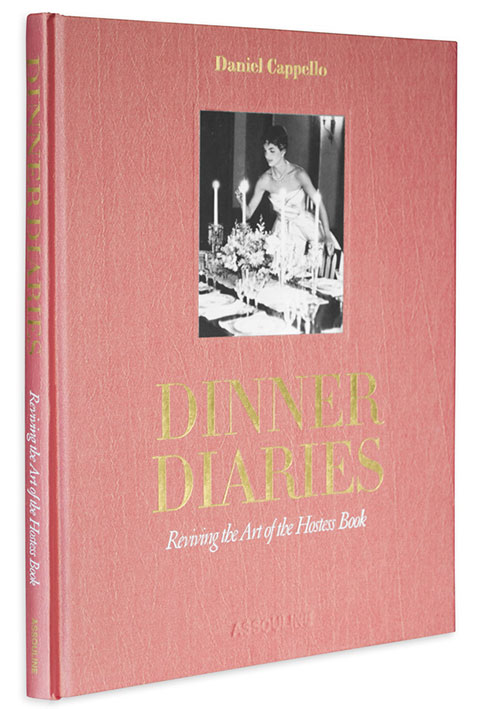 When it comes to dinner parties, Patricia Herrera Lansing (daughter of
Carolina Herrera
) considers 12 the perfect number of guests. Designer
Fiona Kotur Marin
prefers setting the table with votives; Valentino's Giancarlo Giammetti, candlesticks. Meanwhile, Becca Cason Thrash was inspired to be a good hostess by rifling through magazines;
Vanity Fair
's Amy Fine Collins, by "Jewish mothers." And the most memorable centerpieces chef and author
Alex Hitz
ever encountered was at interior decorator Susan Gutfreund's house; it was Christmas Eve and she had snow globes, "each premade with her guests names inside," he recalls. "She used them as place cards."
Those are just some of the gems in Dinner Diaries: Reviving the Art of the Hostess Book by Daniel Cappello. An ode to the lost art of entertaining, the book is filled with handy how-to guides and anecdotes for the modern-day hostess, covering everything from "tablescapes" to seating arrangements, and comes complete with diagrams and questionnaires to help you record your own dinner diary. Here, a few of its tips for party throwers and attendees alike.
For the Hostess
1. Music should be approached like lighting — not too high, and not too low. You want it to enhance your evening, not distract from it.
2. From cocktails to coffee, remember that you are creating an ambiance for the entire evening. Don't get so focused on one part of the evening that you neglect the others.
3. Have a few drinks ready on a tray for when guests arrive. You can take drink requests from there, but a welcome champagne or gin or vodka cocktail is always good to have at the ready and immediately relaxes guests.
For Guests
1. A guest bringing a hostess gift should avoid anything that will create more work for the hostess or intrude on her design for the evening. Flowers, especially an unarranged bouquet, should be avoided, unless sent the following day with a thank-you note.
2. When it comes to dinner conversation, make love, not war. Avoid talk of politics, but welcome talk of sex and love.
3. As a good guest, check your phone and mobile devices with your coat. Give your hostess the dignity of your full attention after all she's put in to making this an evening for you and other guests.
Read more features from the Entertaining Issues, past and present.