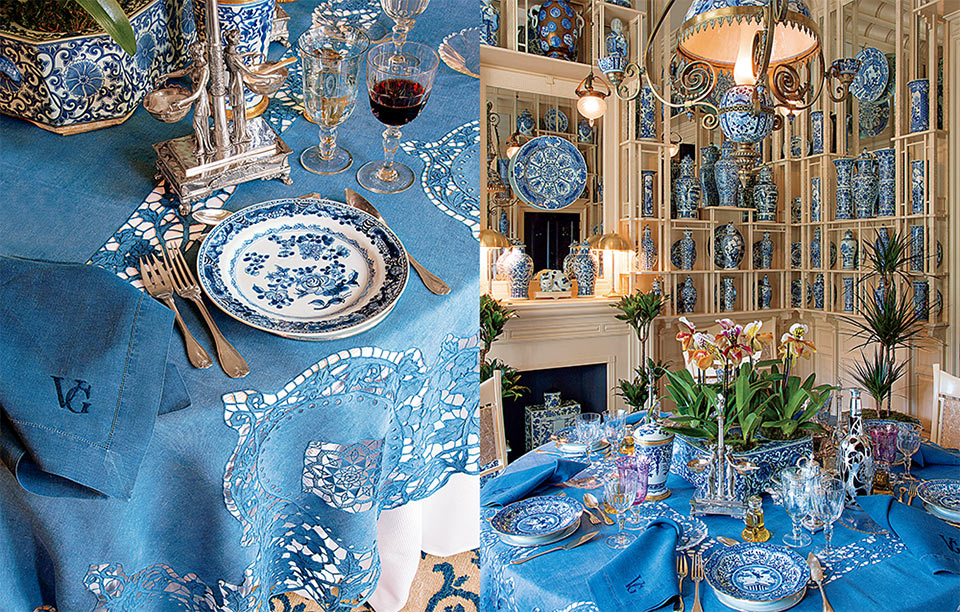 Grand. Elegant. Chic simplicity. They're all words André Leon Talley uses in the introduction to Valentino's latest book. And, no, he's not describing the designer's clothes — although the terms are well applicable — but rather his entertaining style, which is the subject of the new read by
Assouline
.
Valentino: At the Emperor's Table
gives the reader an insider's view of the Italian's numerous homes, from Gstaad and New York to London (above) and Paris, and his life as impeccable host, where tabletops are beautifully arranged and the food served, even more masterful. It's inspiring and a photographic delight. And while you may not be able to live like an emperor à la Valentino — the featured residences include a yacht with interiors by
Peter Marino
— you can certainly dine like one; the book also includes a number of his personal recipes.
Below, the secret to his
risotto ai funghi
.
Valentino's Mushroom Risotto
Ingredients
20 medium-size fresh morel mushrooms
2 tbsp unsalted butter, plus more for cooking mushrooms
5 1/2 c chicken stock
1/2 lb chanterelle mushrooms
1/2 lb porcini mushrooms
1 small yellow onion, finely chopped
3/4 c white wine
1 1/4 c carnaroli rice
2.5 oz mascarpone cheese
6 tbsp grated Parmesan cheese
Salt
Espelette pepper
Directions
Sweat the morels in a little butter; do not let them brown. Add 1/2 cup chicken stock and braise them until tender. Pan-fry the chanterelles and porcinis in a little butter and a pinch of salt. Sauté the onion in 2 tbsp butter for 5 minutes. Add the white wine and let it cook away completely. Add the rice and stir until the grains are coated. Add a ladleful of chicken stock and let it cook away, stirring. Continue adding ladlefuls of stock, stirring, allowing it to cook away before the next addition. When all the stock is cooked away, add the mascarpone and Parmesan; adjust seasoning if needed.
To serve, spread the risotto in a dish and garnish with the mushrooms, jamón ibérico shavings and parmesan shavings. Serves 6.
Read more features from the Entertaining Issues, past and present.