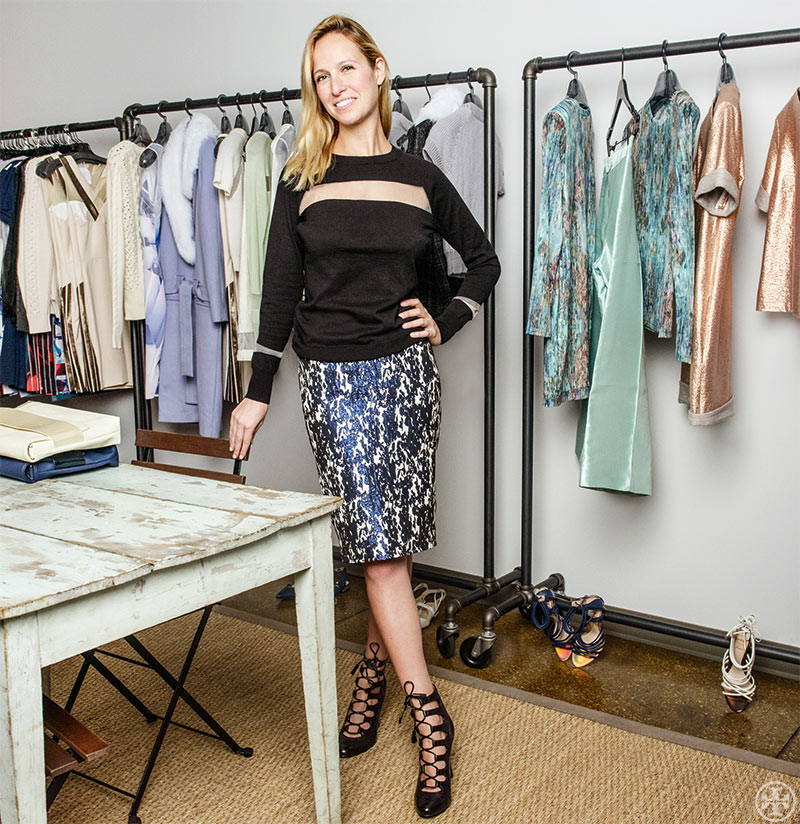 Misha Nonoo, the New York fashion designer and art-scene insider (she's married to Paddle8's Alexander Gilkes and great pals with artist Dustin Yellin) knows how to get into the holiday spirit. Here, photographed wearing Tory's Astrid booties, Nonoo divulges some of her favorite things.
Favorite holiday tradition…
Having friends over for brunches, with
Russ & Daughters
bagels and lox, that last all day and end with us sitting around a roaring fire playing games late into the evening. I am addicted to the game Celebrity.
And holiday memory…
My first Thanksgiving when I moved to the U.S. was very special. My husband Alexander and I spent it in New Orleans and ate crawfish instead of turkey.
And holiday song and/or film…
Film: Love Actually. Song: Nat King Cole's The Christmas Song.
Best gift ever received or given…
I received an incredible scrapbook from my husband with all the memorabilia of our first years dating. He had secretly kept every cinema ticket
stub and invitation to every party we had been to together and created this beautiful book with all the memories and photos to go alongside them. It's one of my most valuable possessions.
My signature hostess gift…
I love the warmth a candle can bring to a room. My favorite is the Jo Malone scented candle, which makes a great gift for the holidays.
Favorite holiday cocktail…
A Pimm's Winter Cup. It's 500 ml Pimm's, 500 ml brandy, 1 ½ l apple juice, 2 cinnamon sticks and 100 percent delicious. And when I'm feeling a little more devilish, I like a Whiskey Sour.
And holiday flower…
It's an arrangement I put together each year. I take large branches and pair them with evergreens — it's simple and smells amazing.
Favorite holiday getaway…
I love going home to London during the holidays, as it feels so festive, but I equally love exploring new places I haven't been. This year, my husband and I are going trekking in Bhutan, then going to Thailand for some spiritual rest and relaxation.
Favorite color…
Mint has really become my go-to color in every season. I love how mint acts as a neutral working with natural hues as well as vibrant tones. I wear mint all year-round; it's my new winter (and summer) white.
And the color that best describes my personality…
Navy and gray. I guess it is the British in me. They always strive for balance, never drawing too much attention but not getting overwhelmed by other colors at the same time.

Photo from Misha Nonoo's Instagram: @mishanonoo, Photo by Steve Geer/ Istock, Photo from Misha Nonoo's Instagram: @mishanonoo