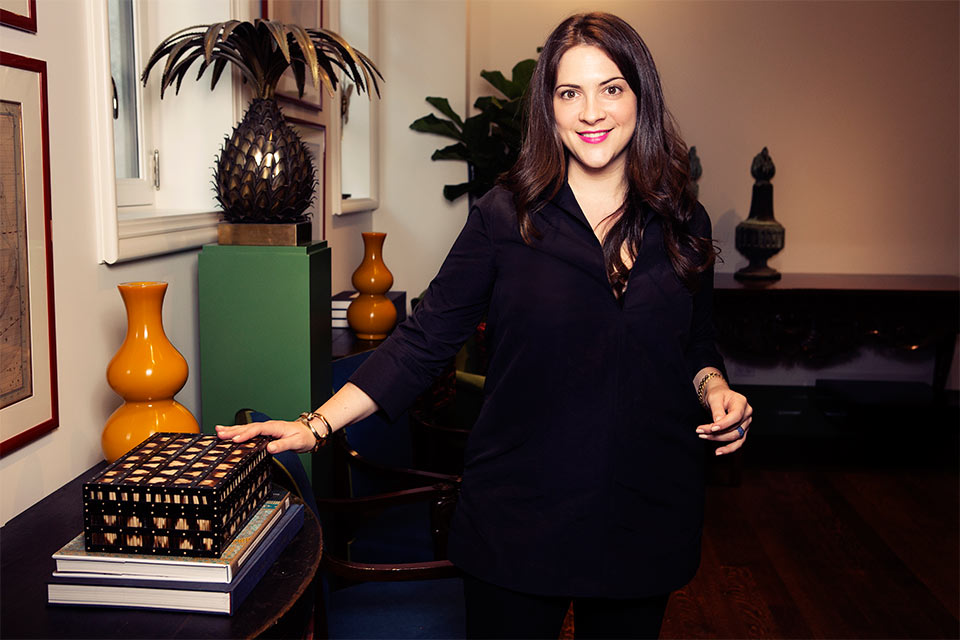 Kate Brodsky's eye for interior design was cultivated from early age; her mother, Suzanne Rheinstein, founded one of Los Angeles' chicest stores, Hollyhock. After cutting her teeth as an editor at Elle Decor, Brodsky followed her mother's suit by opening an Upper East Side boutique called KRB (her initials) this past fall. For Tory Daily, she talks tree-trimming memories and caroling favorites.
Favorite holiday tradition…
Making pomanders.
And holiday memory…
My parent's house in the Eighties decorated with loads of gold-painted magnolia leaves, pleated lipstick-red Fortuny ribbon and colored lights on the tree. Totally over the top and I have been campaigning for my mother to bring it back every since she went tasteful.
And holiday song…
Baby, It's Cold Outside
Best gift ever received…
Pretty much anything my husband has given me — I'm very lucky he likes to buy jewelry.
My signature hostess gift…
A book always — either a big, glossy illustrated one or vintage.
Favorite holiday cocktail…
A not-too-sweet punch served in a big silver bowl is always festive and looks exciting.
And holiday flower…
Masses of paperwhites.
Favorite holiday getaway…
Los Angeles! I've lived in New York 16 years and while I have come to embrace the cold, it's not quite Christmas until I've seen the Hollywood sign framed by palm trees on a sunny, crisp day.
Favorite color…
For the holidays, 3-inch-wide chartreuse satin ribbons and loads of orange-y citrus with the leaves still on.

Baby It's Cold Outside Album Cover- 1963
All other photos from Brodsky's Instagram @krbnyc