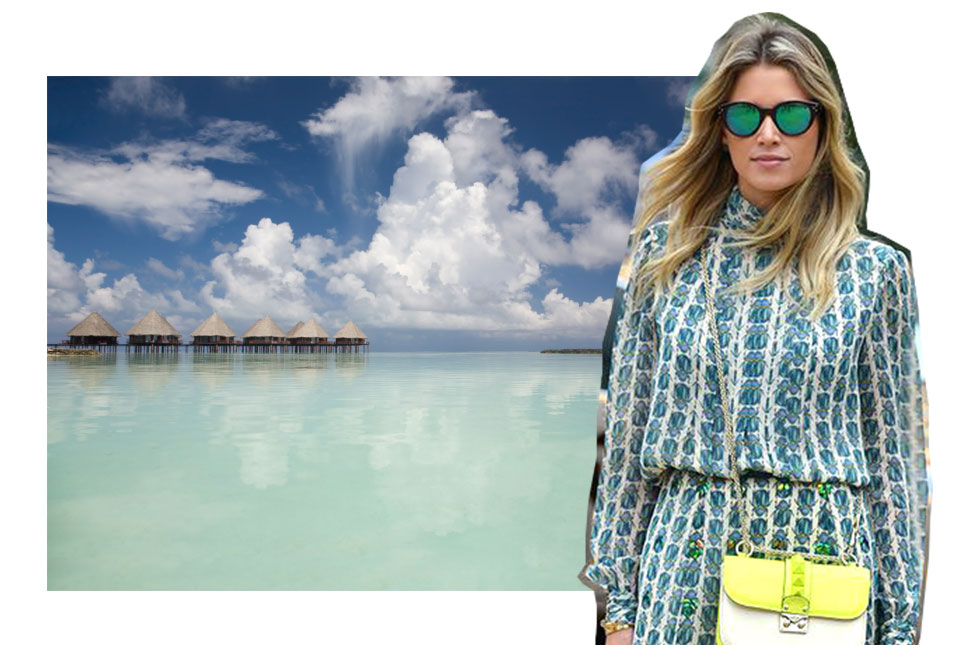 This New Year's Eve, while Big Ben chimes in London and the ball drops in New York's Times Square, Brazilian blogger and Co-Founder of retail chain 284 Helena Bordon will be tucked away off the coast of India on the quiet resort islands of Maldives. Here, she tells us all about that New Year's escape — plus, her packing and travel rituals.
My style is…
Very casual. I love jeans, but I also love layering and colors so I always try to add something with a pop of color as well as something more feminine.
My personal styling trick…
Mixing and matching. And always having some color in the outfit. I don't like totally black. I think prints are always beautiful.
My New Year's getaway this year…
Maldives
What brings me there…
I wanted some time to chill and just stay at the beach and do nothing! What else would be better than heading to Maldives?
During the day I will…
Have some time for myself!
Maldives packing essentials…
Sunscreen, colorful bikinis, cool kaftans, some edgy sunnies and a panama hat.
My packing strategy…
Oh my God, I'm really bad at packing. I don't travel light. I try to write down a list of what I'm going to wear every day, but I always end up bringing two bags and a bunch of things I'm not going to use. I try.
When I get to my hotel, the first thing I do…
Shower and stay in bed, even if it's only 10 minutes. There are so many things going on so it's just for a little peace and quiet. 10 minutes is perfect.
And to make my hotel room my home-away-from-home…
I bring my pillow from Brazil. I travel everywhere with it. And my little blanket. I try to make it personal.
My New Year's resolutions for 2015…
My 2014 has been great! I had an amazing time shooting for huge magazines and brands such as Browns London and being the face of L'Oréal Professionnel. Hope 2015 can be as nice as 2014 was with me. I have some huge plans for next year that, for now, are still in progress. Can't wait to share with everyone.