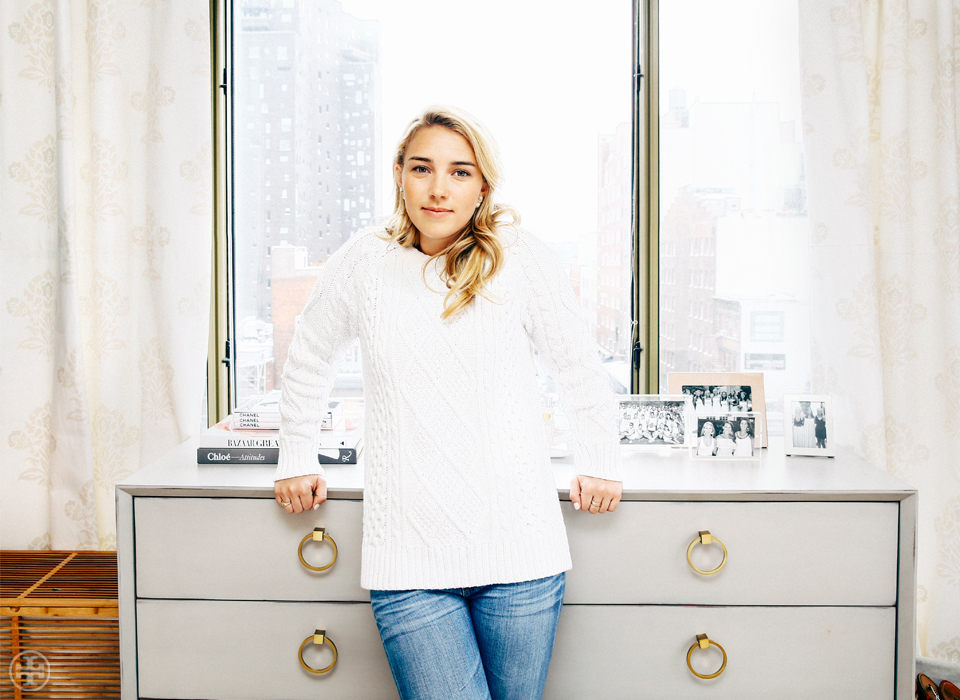 A Pennsylvania native with an entrepreneurial spirit. A coed clientele. And a massive Airstream trailer that doubles as a pop-up boutique. Get to know Victoria Neely Burch — here wearing Tory's cable-knit crewneck sweater, from the upcoming Spring collection — who turned a void in the market into her very own retail business.
My company NEELY by VNB is…
Exactly what you were missing from your favorite shop or department store at home when you were away at college! We're a traveling boutique catering to fashion-conscious college women, many of whom are isolated at rural and suburban colleges. After creating relationships with our customer on campus, she can visit and shop with us online, allowing us to continue our relationship even after we've left her school.
I was inspired to start this company because…
After spending four years at school in rural Virginia, I realized there was a huge market of young women with no access to the experience of shopping. We believe shopping is a social activity and many college women are longing for the chance to really engage with products before buying.
So far we've toured…
One of the reasons I was inspired to create NEELY by VNB was because of my own personal college experience at Washington and Lee University. I was excited to launch our first tour at my alma mater over alumni weekend… It really was a great homecoming! We continued the tour in Virginia, New Jersey, Pennsylvania, Connecticut and Massachusetts, popping up at 10 schools in total.
Best thing about owning your own business…
Watching the concept come to life. I love seeing how the details we work on day to day have come together to create something very special that all of us are proud of. It has been so satisfying to see that our original brand concept feels as fresh and vibrant as it did the day we started.
And the challenges…
I've been lucky enough to work with some very talented people — both as colleagues and consultants — and, honestly, it can be intimidating. Managing their efforts with so little experience under my belt is definitely a challenge, but I think in asking for lots of input and feedback, I've managed to build some very strong working relationships.
My tips to overcoming the above…
I think you can compensate for youth with common sense and enthusiasm, but it always makes sense to have great outside advisors to rely on. We are in the process of putting together a board of directors comprised of individuals who have had great success in their chosen fields, understand what we're trying to achieve and are excited to support the concept as it grows.
And don't forget…
Business is so dynamic, you need to be sure you're always ready to adapt. Being on our toes and ready to find alternative solutions is what allowed us to achieve so many of our goals in our first season.
One thing I wish I knew starting out…
How much skill is required to drive a 30' Airstream trailer! But more seriously, I wish I'd known that all the tiny details cannot be perfectly planned and tiny hiccups are going to happen. Everything that we've dealt with thus far, good or bad, has been an absolutely massive learning experience for us. We are of the mindset that every stop presents its own challenges and is a learning opportunity that allows us to grow and better serve our customers.
Best business advice received…
Two things really: Listen to the customer and protect your vision or concept at all costs. There are no shortcuts to building a solid business where quality, design and merchandise come together in a magical way.
Lessons learned from selling/marketing to a college crowd…
We can't give away all of our secrets! It goes without saying, but you have to know the audience. Like marketing to any demographic, we avoid making sweeping generalizations and saying college students like this or that. We do our best to be as specific as possible, to the point of curating product for individual universities. What else… Stay fresh and act as much as possible in "real time." Planning campaigns a year out isn't really an option for us. What's trending on campus now most likely won't be a year later, yet alone six months later.
Next up…
We're just about to launch our spring tour. This time around, we're headed south! Over the next three months, we'll visit 15 campuses in seven states. As we grow, we hope to expand our private label, after great success with our Evie Bag this fall, and continue to expand our presence on U.S. university campuses.