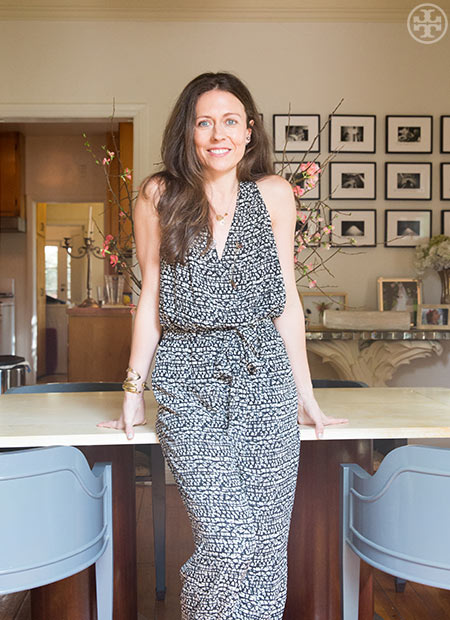 If you were to create a Venn diagram to describe Los Angeles-based interior designer Georgia Tapert Howe's style, it would show the point where the elegance and sophistication of Mica Ertegun (Howe's first boss) meets the casual, beachy vibe of Sixties Jane Birkin. In other words: chic, defined. Recently located from New York, this new mother has embraced her new West Coast existence with vigor — including a commitment to a certain sandal style that might be out of place in her old city stomping grounds. Here, wearing Tory's Tribal Geo jumpsuit, she tells us how living under the palms compares to life in Manhattan, passes on some decorating wisdom and shares her favorite spot for a fashion fix.
My personal style…
I always wind up going back to a fairly classic style. I get excited about certain trends, but I tend to take a trend and incorporate it into a somewhat classic look. As I have gotten older I try to have a foundation of good staples that I know work for me. I can then build on those staples and have a little fun. I have learned that some trends are best observed on others! I also have a little bohemian in me; I love a good flowy sundress and big hat, and completely succumbed to the Birkenstock trend last year.
My style icons…
Jane Birkin and Cate Blanchett are the first two who come to mind.
Wardrobe essentials…
A great pair of jeans, white and gray t-shirts, my collection of gold bracelets… And I love a good sundress. At the moment I'm really into a few of these Zimmermann dresses I bought. Also, a good blazer. You don't really need coats in L.A. so blazers are a must for me. If it's chilly I have a lightweight fur vest that I'll throw on under a blazer — this time of year, it's my go to.
When I need a shopping fix…
I head to Barneys.
When it comes to my style for interiors…
It's similar to the way I dress. I tend to gravitate to more classic furniture accented with some more modern pieces and simple fabrics with a few ethnic-y pieces thrown in. Since having a child I have gotten a bit more minimal and practical.
Favorite house I've ever visited…
So hard to choose! I have been lucky to visit some really great houses. When I worked for Mica Ertegun, we were in Istanbul and went to a house she had designed for an old client. I had seen it in a magazine before I started working for her and thought it was incredible; it was just as fantastic in person. The house sat right on the Bosphorus so it was a completely magical setting. It was a mix of beautiful traditional Turkish textiles — this was before ikat was everywhere! — and really simple furniture. It felt bohemian and elegant at the same time. People don't decorate in that way anymore. It's just as good today as it was 20 years ago when it was done. I've never forgotten it.
To update your home for spring…
Do not underestimate the power of beautiful flowers. Just the other day I saw these great vases, which I bought and filled with fresh flowers. That got me over feeling like I needed to get all new furniture — at least for a minute, anyway. Pillows are great too!
Favorite flea markets around the world…
The Marché aux Puces in Paris is fantastic, but there are some amazing ones I have never been to in Italy that I'm desperate to get to. The markets in Jodhpur, India, are pretty fantastic also.
Homes in L.A. vs. homes in New York…
L.A. — you just have more space and things seem to be a bit more casual. I have been totally seduced by the classic California Modern vibe, but I'm not sure I would want that in New York City. You often forget you live in a city here. You will be sitting in someone's living room looking out onto a swimming pool; you want an interior that works with that setting. In New York, things just tend to be a bit more formal and perhaps layered. You aren't usually working with an area which you want to have flow to the outside — unless you are one of the very lucky ones!
And L.A. style vs. New York style…
Overall, girls here are a bit more laid back. When I first moved here I couldn't get over people spending a whole day in exercise clothing! There is also a whole California beach look that's so great and that, as an East Coast city girl, I appreciate. I have a love-hate relationship with how casual things can be here. On the one hand, I love that I can wear jeans almost anywhere, but I have some beautiful clothes that I want to wear, dammit! In New York, anything goes. New York girls tend to be a bit more on the cutting edge of things and, I think, tend to take more risks and have a little fun with fashion, while still being pulled together and looking great. I love going to New York and getting a little more dressed up for nothing more than running errands.
My ideal weekend in L.A….
An early morning Pilates class and then the farmers' market and beach with my husband and daughter. Then dinner with my husband and friends. It sounds so L.A., but it's pretty great that I get to do this almost every weekend. Four years of living here and not a week goes by that I don't think how lucky I am to live in a place where I see the ocean every day and can spend so much time outside in the sun.
If I'm in the mood for a night out…
It's much tamer than it used to be, but usually just dinner out at one of my favorite restaurants. I love Little Dom's in Loz Feliz, Gjelina in Venice and Sunset Tower. A concert at the Hollywood Bowl — that's always really fun in the summer.
Songs on my iPod…
I like the classics — Sam Cooke, Paul Simon, Neil Young, all that stuff
Book on my nightstand…
The Circle by Dave Eggers and a pile of New Yorkers I can never quite keep up with…
Lately I'm inspired by…
Since moving to L.A., I have gotten really inspired by all the incredible modern houses. My dream is to find and restore one. I never thought in a million years I would want a modern house!