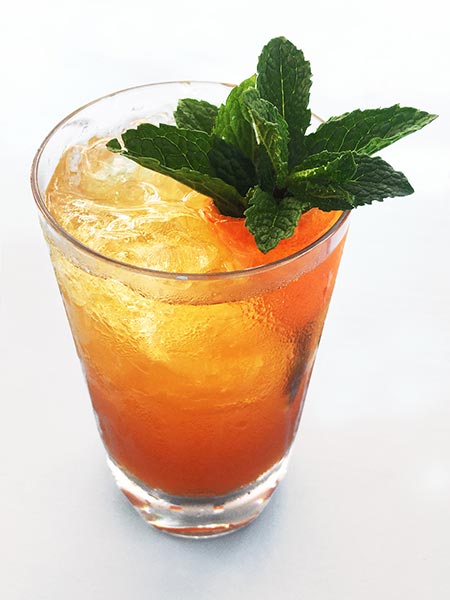 At Eric Ripert's Cayman Cookout at the Ritz Carlton Grand Cayman earlier this year, Charles Joly won over the crowd (including a handful of Michelin-starred chefs) with his smooth rum-based Jolly Roger. He recently left his post at The Aviary in Chicago where one of his concoctions won a James Beard for Outstanding Bar Program. But "best" seems to follow him in his career. He currently holds the title of world's best bartender, having competed against and out-performed 47 best international mixologists at the Diageo World Class competition in London last summer. Joly also founded Crafthouse Cocktails, prepared classic cocktails like the Moscow Mule and Southside (one of Tory's favorites), using all-natural ingredients. Here, he shares a little bit about his journey and his Jolly Roger recipe.
Do you have a favorite cocktail?
It depends on my mood. I just gave a seminar on what we call the holy trinity, which is rum, lime and sugar mixed together in so many amazing ways for centuries — a daiquiri, a caipirinha and a tea punch from Martinique. All really good if done right. I like agave spirits, tequila, mezcal, bourbon, Armagnac, Calvados…we have access to so much good stuff now.
What are some other good classics?
Rum Manhattan. We took the venerable Manhattan and used some aged rum and put some chocolate bitters in it. Delicious. I think the simple drinks are great like a Paloma or a margarita.
First memory of wanting to be a mixologist?
We built a bar in my friend's basement, called The Lounge. It was designed and we painted the ceiling, and I would DJ. We had the drink deck. This was the late Nineties. The cocktails were… there was blue stuff. The first cocktail that I had that was properly made was a whiskey sour. It had good bourbon and fresh-squeezed lemon juice and simple syrup. It's like when I make people a real daiquiri. If you give someone a properly made cocktail, it's so good. It's fresh and crisp and balanced. It has acid, but it's not too tart or sweet. They ask, "What is it?" I say "Daiquiri" and they can't believe it. They usually think of a strawberry slushy made from a blender.
Blenders are bad…
Well, you can't hate the blender because when you go to El Floridita in Havana — which is where Hemingway drank his daiquiris — they make their daiquiris in a blender. We went there and we went every day. We stayed so long they realized we weren't just tourists on a bus coming in to just get our one requisite daiquiri. We ended up behind the bar, trading tools. I got the guy's apron and the Cuban Bartenders Association pin. It was awesome. This was the place where Hemingway and everyone sat in the Twenties, Thirties and Forties.
Do you miss your early days when you were behind a bar?
I love to still work those shifts if a friend has a bar and I have the time — I relish it. Making simple drinks and having a good time. It's like being a host of a party.
What are you drinking right now?
Cuban rum on ice.
The Jolly Roger Recipe, by Charles Joly
1 1/2 oz flavorful aged rum, like Pyrat XO
3/4 oz sweet vermouth
1/4 oz Fernet-Branca
1/4 oz simple syrup
3/4 oz fresh lemon juice
Top with sparkling wine/champagne
Combine rum, vermouth, Fernet-Branca, simple syrup and lemon juice in a tin. Shake with ice to chill and dilute. Add in about 1 1/2 oz dry sparkling wine and pour over fresh ice into a collins glass. For garnish, use a vegetable peeler to cut a swath of orange peel, express oils over cocktail (hold the peel between your fingers with the citrus skin facing the cocktail; squeeze sharply to mist the top of the cocktail) and place decoratively with sprigs of mint.