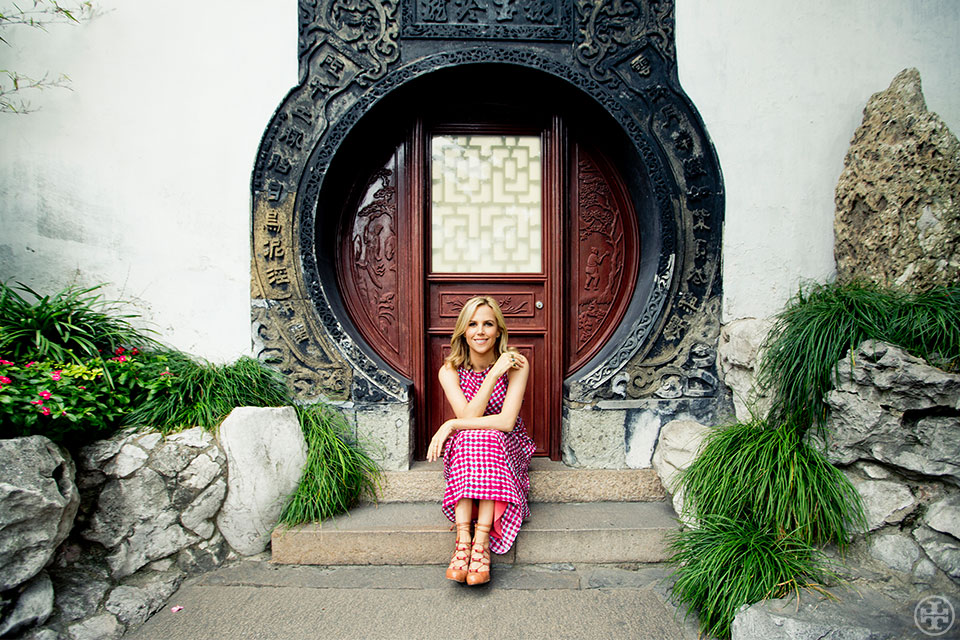 Tory, wearing the Tea-Length Dress, talks about the season's bohemian style.
Describe Spring's bohemian feeling…
I love traveling, and I wanted the collection to have a spirit of someplace else. The prints, patterns and colors will hopefully inspire a little wanderlust. And we included artisanal details that are either hand-done or feel like it.
And the prints and patterns…
We always love batik and tie-dye prints, so for Spring 2015, we gave a Madras plaid, in pink or blue, a tie-dye-like finish — it toes the line between hippie and classic. There is a fine palm-leaf print that we did in a great bib top, and embroidered mandalas cover a sundress. Meanwhile graphic stitches on a long white skirt are pulled from architecture we've seen on various trips to Morocco, India and Mexico.
What are some accessories details you love?
There's a rustic appeal to a lot of the jewelry, especially our hammered metal necklaces and bracelet. We hand-painted rose-colored brass collars, bangles and earrings and they look like something you might find in an African bazaar. I really love our shoes — the wood heels have blocks of colored resin. It's a strong, architectural look that I love.
Every season, there's always an animal that you feature. Who is Spring's creature?
We have a few birds that show up in earrings, and are very delicate. I'm partial to our Monkey hoop earrings, which were on the runway. They add a little cheekiness to any look, but are elegant in gold-plated brass.
What are you wearing here?
I'm wearing our Tea-Length Dress — it's perfect for travel. Soft pleats give it a flattering silhouette. I throw a cardigan over it when I need to cover up, and have worn it with heels and sandals.