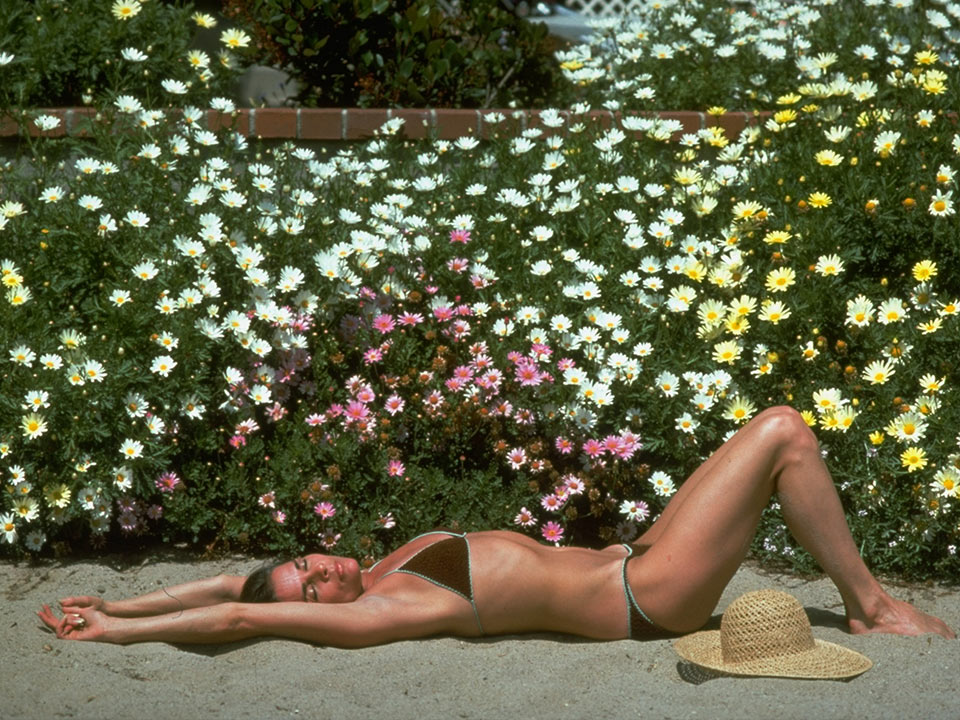 Although the calendar year kicks off with January — and, thus, with Capricorns — by astrological accounts everything begins with Aries. It's the first sign of the zodiac and by those measures, according to astrologer
Susie Cox
in her book
Susie's Sun Signs
, Aries are self-starters and great initiators. "I compare the Aries personality to a sprout just popping up through the ground," she writes. "That little sprout somehow knows it will one day be a huge, magnificent oak tree…" They're the warriors of the zodiac, she adds.
Scan through the list of famous Aries and you'll easily find individuals you could describe as "warriors" and "magnificent oak trees." Like Maya Angelou and Bette Davis, Billie Holiday and Gloria Steinem. Ali MacGraw, above, was another.
The star of Love Story and The Getaway — who started her career as an assistant to Diana Vreeland — catapulted herself to overnight success in the Seventies and became a top fashion icon of the era; every girl wanted her look, its effortless ease and the stick-straight hair parted in the middle. And though she just as quickly skipped out on Hollywood and disappeared from the public eye, that self-starter initiative never faded. She produced her own instructional yoga video (Ali MacGraw: Yoga Mind and Body), became honorary mayor of Malibu for a term (succeeded by Martin Sheen), launched her own line of handbags and pashminas (Ali MacGraw Milagro), was an interior decorator for friends, and threw herself into community service in her post-Tinseltown home of Santa Fe.
Those born under this sign are very romantic partners, adds Cox — and that certainly applied to MacGraw. "I'm an incredible romantic — it runs me," she once told Vanity Fair (which, in the same 2010 article, quoted friend Candice Bergen as noting that romanticism was sometimes MacGraw's "undoing"). And then, of course, who could forget MacGraw's tempestuous love story with Steve McQueen? Aries are also known for their hot temper, for being impulsive and intense. "They are exciting but can be sizzling to the touch," Cox continues.
And, well, McQueen? He was an Aries, too.
Keep reading to discover your horoscope, from Cox, now that we're in the air sign of Aries (March 20th – April 20th).
Aries
Happy Birthday, exciting Aries! Your sign marks the beginning of Spring every year. This year there is a Solar Eclipse on the first day of Aries. This is your month to start fresh and to reinvent yourself.
Taurus
Venus is still in Taurus until April 11th. Mars will also be there starting March 31st. This is the time to pamper yourself with a serious spa weekend. Do new beauty treatments that you've never tried before.
Gemini
After Venus leaves Taurus, she enters your sign of Gemini and will be there from April 11th until May 8th. Love, beauty, creativity and the arts are all favored. Maybe a quick road trip is in store for you.
Cancer
Your power dates are March 26th to March 28th. There will likely be family issues for you to handle. Stay calm and everything will work out. Just don't give into their craziness and you'll be fine.
Leo
There are many planets in fire signs now that are all aligning with your Sun in Leo. The main days of the alignment will be March 28th to March 30th, when you will connect with other exciting, dynamic people. Plan for a party!
Virgo
This month is a financial time for you. Organize your portfolio and files so you will know where everything is located. You'll need it soon.
Libra
The full moon is in your sign of Libra on April 4th and is a Lunar Eclipse. Emotions might be heightened, especially involving your relationships with other people.
Scorpio
You will more than likely be met with slightly resistant people this month. Don't take it personally or let it get to you. Reacting to them will only make it worse.
Sagittarius
Your power dates this month are April 8th and 9th, which will be the perfect time to release any old emotions you've been holding on to. If you're ready, they will leave like a breeze of cool air.
Capricorn
Pluto is in your sign of Capricorn and is joined by the Moon on April 10th and 11th. These are the perfect days to schedule meetings with people in positions of power.
Aquarius
This is the month to write the words or concepts that have been going through your mind. You know what I'm talking about. Start with a flow of consciousness and you will soon see a pattern emerging.
Pisces
Your power dates are April 14th and 15th when you will have a decision to make about your love life or relationships. Shall I or shall I not? You are the only one who will know that answer.