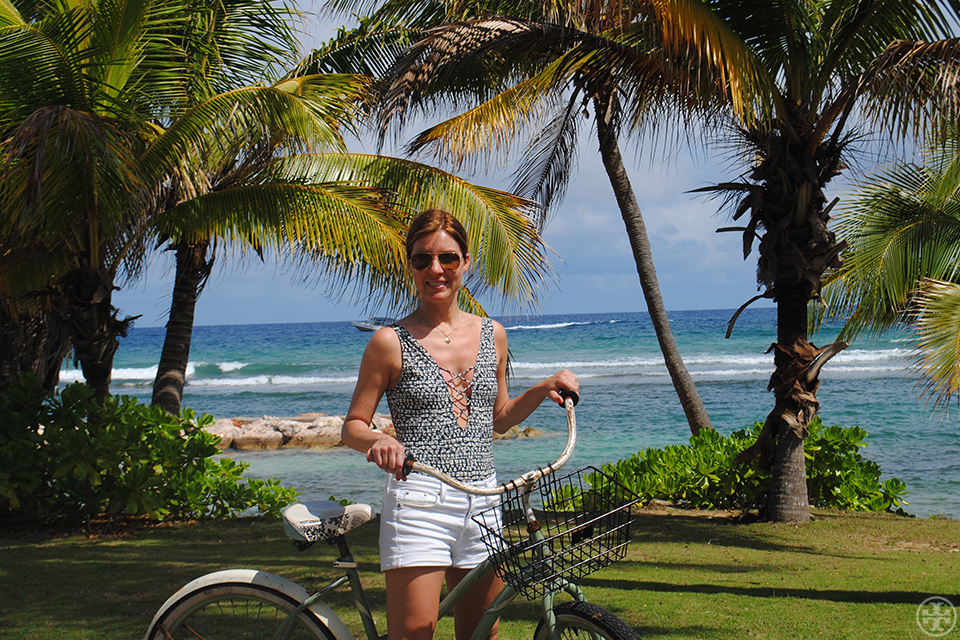 Jennifer Alfano knows about career reinvention. She spent years on the editorial side of the fashion industry — working at Vogue and Harper's Bazaar, most recently as the latter's Fashion Features Director — before narrowing her focus on bijoux. Now, she's a New York-based fine jewelry designer who's carved out a niche in gorgeous and graphic birthstone designs, which strike the perfect chord of chic and intimately personal. Here wearing Tory's tribal tribal geo one-piece, she takes us on a vacation escape away from the busy city and into the sunny embrace of Montego Bay, Jamaica. (And, oh, as for her own birthstone? It's aquamarine.)

Montego Bay is a great getaway because…
Half Moon Bay is a beautiful old-school resort on one of the most picturesque beaches in Jamaica.
And what I personally love about it…
You can do as little or as much (snorkeling, sailing, tennis, biking, spa treatments) as you want. Plus everyone is incredibly friendly.
Packing essentials…
La Roche Posay sunscreen, a good book (The Girl on the Train for this trip), K. Jacques sandals in luggage tan and black, peasant tops from Nili Lotan and Isabel Marant, denim shorts, my Tory Burch batik jumpsuit for night, and of course some of my pendants.
My vacation uniform…
My TB batik one-piece, denim shorts and a hat.
During the day you'll find me…
Sitting under a palm tree staring at the ocean, daydreaming (I'm very good at this) or swimming or snorkeling in the ocean.
And at night…
Classic seaside cocktails at Half Moon Bay or Round Hill (both resorts with storied, glamorous pasts), followed by dinner in downtown MoBay.
The best beach…
Half Moon Bay, there are areas where you can be the only one on the beach.
The local eats…
The jerk chicken and pork with rice and peas and festivals (a sort of hush puppy) are the best at Scotchies. There are as many locals eating there as tourists, so you know you're in the right spot. The mood is very chill, which makes it my kind of place.
The cocktail to drink to be mistaken for a local…
Red Stripe beer, which you can find everywhere.
No visit to Montego Bay is complete without trying…
Something adventurous, such as climbing Dunne Falls in Ocho Rios. There are so many natural waterfalls with swimming holes, you should visit at least one.
One secret only a local would know…
A good Jamaican sweet is caramel corn pudding, which is baked in coals (a method the Jamaicans originally used to make all cakes) and can only be found at roadside markets. Ask a driver where to find it.