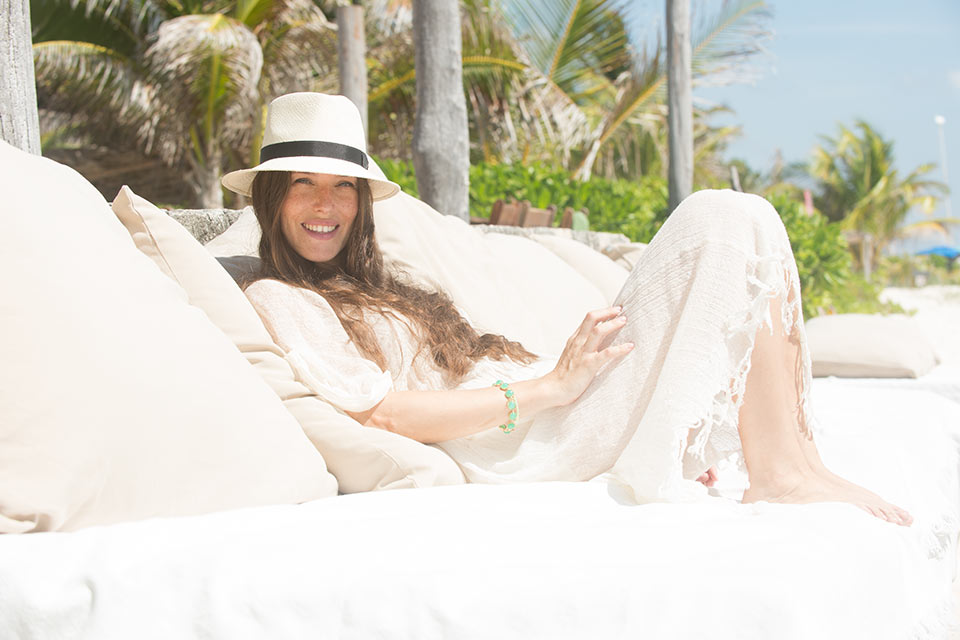 It's the stuff of fairy tales. Woman meets man on a white sandy beach. They fall in love, and marry. Now add the breathtakingly bohemian environs of Tulum, Mexico, and you have the very real story of Francesca Bonato, above, and Nicolas Malleville. Together, they founded a mini empire in the Yucatan Peninsula with their Coqui Coqui boutique hotels (paradise hideaways, really) in Tulum, Valladolid, Coba and Merida, and a perfumery to boot. Here, we chat with Bonato — who also has her own fashion line Hacienda Montaecristo — about the place where their story began.
I was drawn to living in Tulum because…
I met Nicolas in 2003 building a bathtub on the beach when Coqui Coqui was only a room on the beach…
Tulum packing essentials…
Leather sandals, pareo, swimsuit, hat, sunscreen, camera and small luggage!
Highlights to do during the day…
Perfumes and beachwear at Coqui Coqui Beach Boutique, shopping at Caravana tent store, yoga at Sanara, spa at Be Tulum. 
And at night…
Gitano and all full-moon parties are great!
Best restaurants…
Breakfast at Posada Margherita, dinner at Hartwood and drinks at Gitano.
And my favorite eats…
Pork Ribs at Hartwood!
The cocktail to drink if you want to be mistaken for a local…
Tamarind margarita at Gitano!
My favorite view…
Cesiak, in the natural reserve of Sian Kaan.
One thing you can get in Tulum you can't get anywhere else…
Local handcraft and amazing hammocks!
One secret only a local would know…
Turtles in the summertime. Walk at night silently on the beach and you will see the most amazing spectacle…
Follow Francesca Bonato at Coqui Coqui on Instagram