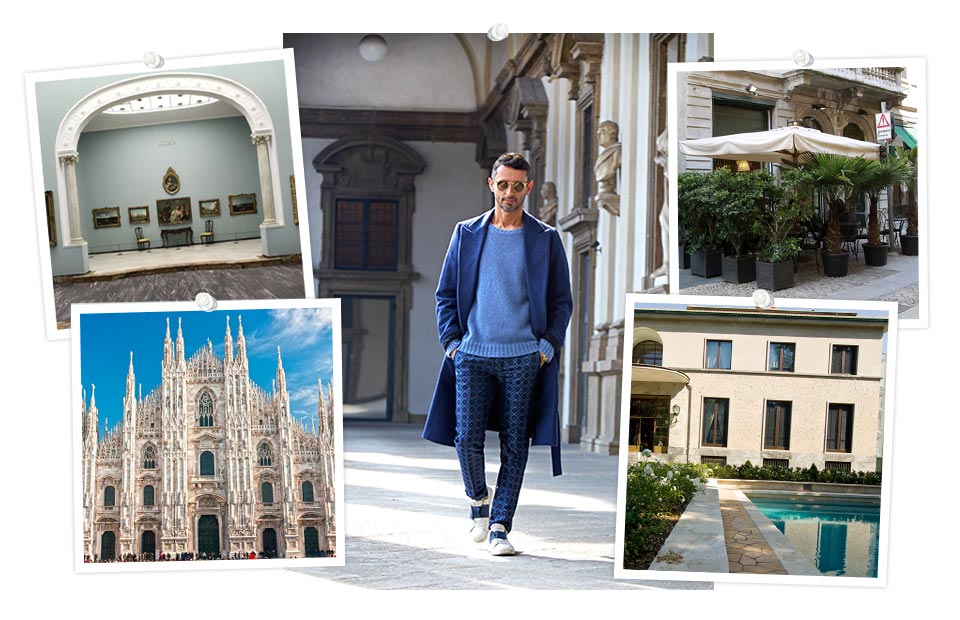 La Repubblica's Simone Marchetti shares the ultimate guide to Milan. From the top gelato spots to the best flower markets, it's a look into the city like no other.
First-time visitors to Milan must visit…
Pinacoteca di Brera, the rooftop of Duomo di Milano, Teatro alla Scala and the new Fondazione Prada. Then, to discover the "Milanese Taste," an itinerary to understand the deepest soul of the city: Villa Necchi, Fondazione Piero Portaluppi, Fondazione Achille Castiglioni, Fondazione Franco Albini and Fondazione Vico Magistretti.
Milanese etiquette to know…
Check this group on Facebook: Il Milanese Imbruttito.
And words/phrases to know…
Ghe pens mi — I will arrange it. Va' ciapà i rat — do not bother me. Bella zio — hi there!
Tips to navigating the city…
Do not stop a taxi with the hand like in New York — use Uber. Be quick when ordering a coffee. Indulge in an "aperitif" in the evening. My suggestions: Pravda (for the Vodka lovers, Via Carlo Vittadini 6); Armani Hotel's Bamboo Bar (for the beautiful view, Via Manzoni 31); Cinc (in the heart of Brera, in the beautiful Piazza Formentini) and Rita (in the Navigli area, Via Angelo Fumagalli 1).
The best views can be found at…
The rooftop of the Duomo, Torre Branca and the last floor of Palazzo Lombardia.
Best cafès…
Marchesi for the best croissant, Panarello for the best cannoncino, Taveggia for the best rice pudding and, for the best fashion crowd, Sant Ambroeus and Cova.
Best place for a gelato and what to order…
Gelateria della Musica (salted pistacchio), Umberto (caramelized cream) and Il Massimo del Gelato (almond cream and extra chocolate).
Best local eats can be found at…
Trattoria della Pesa, Fioraio Bianchi, Nuovo Macello, Le Specialità (best pizza), Les Pommes, Da Piero e Pia, Pisacco, Ceresio 7, Santa Lucia, Giacomo Bistrot and Giacomo Arengario.
Best bookstore…
L'Arabesque Cult Store & Cafè at Largo Augusto 10.
And garden…
Orti di Brera. Enter from Via Fratelli Gabba (near Bulgari Hotel).
And flower market…
Redaelli on via Manzoni 16, Frida's on Corso Garibaldi 18, Fioraio Bianchi on via Montebello 7 and Tearose on via Manzoni 27 and via Croce Rossa.
The most scenic strolls in the city…
The Brera district, Via Cappuccio and Corso Venezia/Via Vivaio/Via Serbelloni.
One thing you can get in Milan you can't get anywhere else…
The "Milanese Taste." I call it the "moderate luxury." How to discover it? See above [in question one] the "Milanese Taste" itinerary.
And one secret only a local would know…
Again, Orti di Brera — it's my favorite place ever in Milano. It's the oldest park and is still very very hidden and intimate. Chiesa di Santa Maria presso Sahn Satiro (via Torino), a masterpiece by Bramante. And Chiesa di San Maurizio al Monastero Maggiore — it's called the Sistine Chapel of Milano. Amazing frescoes.
Follow Simone Marchetti on Instagram.