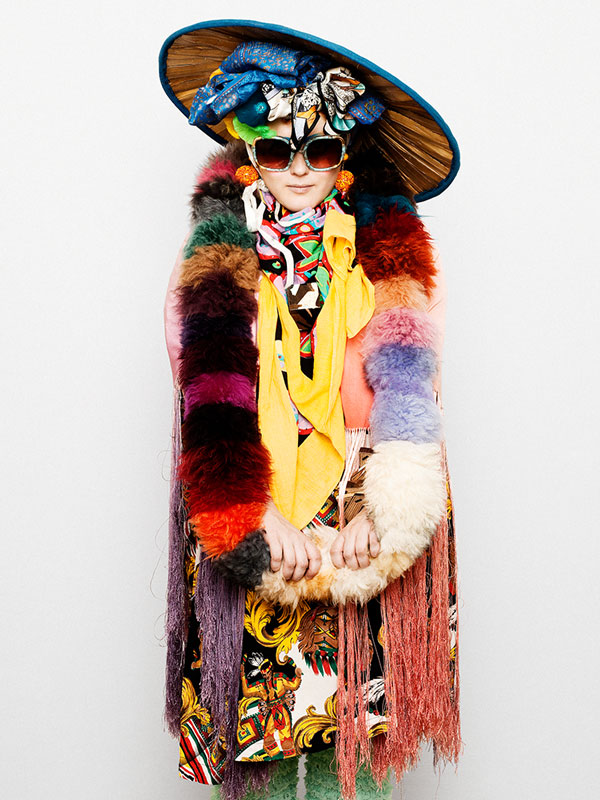 London artist Bethan Laura Wood is the creative brains behind Lettuce Entertain You, the art installation inspired by the Dodie Thayer for Tory Burch Lettuce Ware collection currently on display at our Milan flagship on Via Della Spiga 7. Check out this post to see the works and keep reading to get to know Wood and discover how she whipped up a surreal fantasy of oversized canapé sculptures from our tabletop designs.

My backstory…
I've always needed to create stuff. I think it's been evident in me ever since I was very young. My time at RCA [Royal College of Art] was really formative in helping me understand what it was that I could bring — there, I found a way to be comfortable working with color and pattern. I've always loved dressing up and having colors on myself, but until RCA, I was quite reserved about whether it was appropriate in my work. And then when I graduated, Martino Gamper [whom I had studied under] was very supportive and introduced me to Nina Yashar of Nilufar Gallery. She introduced me to this art-design world where I've been working up to now.
And design influences…
Pattern and color are omnipresent in my work. I love using a mix of references, things like popular culture and movies and TV programs. I like flea markets. I find them very rewarding as a way to get information about particular groups or proportions of color that are connected to periods of time. I'm constantly inspired by meeting people with particular skills. I like working with artisans who know a material inside and out, and then designing work around that specialty.
The interest in pattern and color comes from…
I didn't wake up one day and go, I love color. They're just things I'm drawn to and I find it easier to dress in pattern and color than someone else who dresses in all black. I've tried [the latter] a couple of times, but I've never quite managed to do it. I always have to fake something in.
I'd describe my personal style as…
Russian-doll chic. When you think you've reached the last layer, there's a whole other set. I like layering a lot. And a voluminous kind of shape.
My art installation inspired by the Dodie Thayer for Tory Burch Lettuce Ware collection…
Celebrates the lettuce ware collection and the spirit of Dodie Thayer, and is a fun exploration of the idea that you can find patterns everywhere around you, even in the food in front of you. If you look hard enough, you'll suddenly see a whole world of pattern.
The inspiration behind it…
I loved that Dodie Thayer was a kind of hostess with the mostess, who designed her own plates. So that was the starting point in making works that were inspired by the lettuce ware collection. I imagined that the plates were real pieces of lettuce, or like small leaves, and then designed canapés that were in proportion.
And the names…
Instead of numbering the works one, two, three, we decided to give them these Sixties and Seventies names, the kind of ladies who would be at this dinner party eating these rather extravagant canapés. There's Abigail, Beverly, Margo, Prudence, Barbara… Abigail and Beverly are from Abigail's Party [a 1977 Mike Leigh play]. Barbara and Margo are from a Seventies BBC show, The Good Life.
And the patterns…
I saw this photograph of Dodie, wearing this amazing psychedelic dress. I loved that. And when I was researching canapés, I hit upon this love of Jell-O during this period and how everything seemed to taste better when it was put in Jell-O. So if you look closely at my canapés, you can see shapes that maybe resemble a piece of celery or cucumber. I like that people can see different things — your mind could wander. Some people see fried eggs.
And the canapé shapes…
For the molds, I actually used my mum's jelly molds and ones that I had picked up. I started to get obsessed with this jelly world… It's food, but just a little off.
My other projects this week at Salone del Mobile…
A selection of my collaborations with Nilufar Gallery will be on show at Nilufar Depot. I'm one of eight designers invited by Tolix to create a limited edition of the iconic A Chair, which turns 80 this year, for the show Face to Face with an Icon. And I'm taking part in The Art of Living, an exhibit organized by Living Interiors Magazine/Corriere della Sera at the Triennale Museum.
Last but not least, my own personal favorite canapé…
Hmmm… I'm worried that it'll probably taste horrible, but I would love to actually try one of the pieces that I've made. Or at least try one of those weird kind of jellies I've been researching, like salmon mousse jelly with creamed potato. I actually found one with a potato salad in a jelly. I was like, OK, that should be interesting.