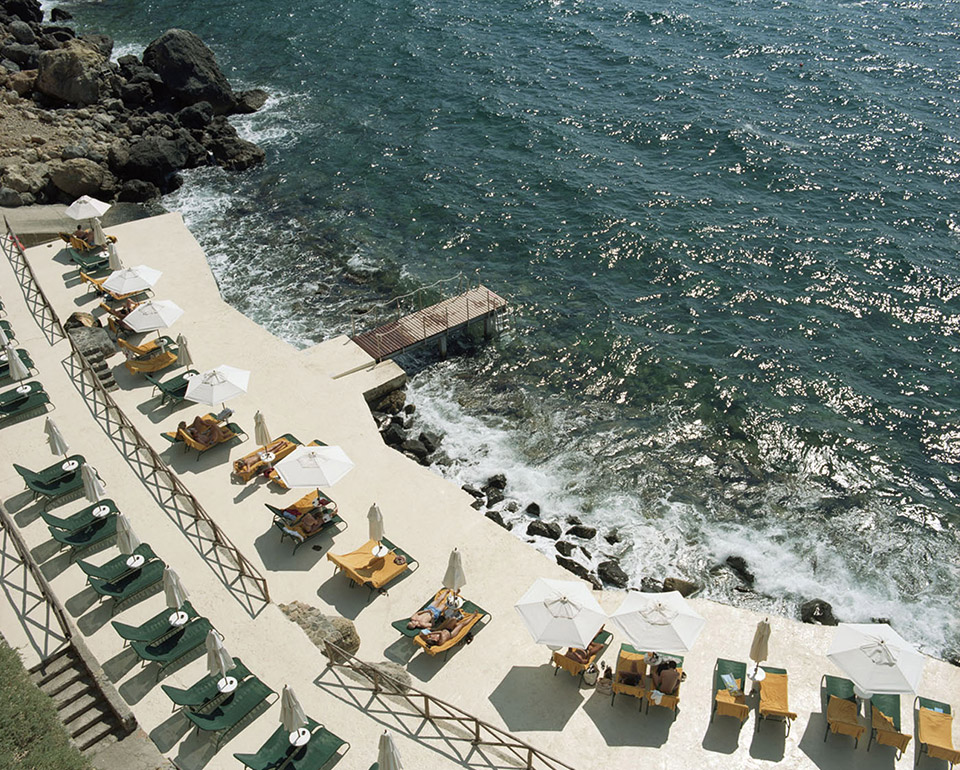 The beach at Il Pellicano in the Seventies, photographed by Beth Evans
Our celebration of all things Milan this week on Tory Daily continues with a spotlight on some great day or weekend trips you can take from the busy city. Here, a few destinations — close enough to get there in a few hours (or less) but far enough to feel like a true getaway escape.
Monte Argentario
Tucked in this slice of the Tuscan Coast is the legendary Hotel Il Pellicano, a favorite vacation haunt of Jackie Kennedy, Clark Gable and many jet-set others. While this five-star resort (owned by the parents of one of our Milan tastemakers, Marie-Louise Sciò) is on the farther side — it's closer to Rome than Milan — this one is well worth the trip.
Lake Como
The views are breathtaking. There's a reason this place becomes a celebrity retreat in the summer. Just watch out for the fines — as in the $550 you'll have to pay if you approach George Clooney's Villa Oleandra there.
Bergamo
Head straight for Città Alta to experience a throwback to Italy's past — it's the quieter, medieval part of Bergamo. (Città Bassa is the city's more modern quarters.)
Parma
A gastronome paradise. The cheese, the prosciutto… Need we say more?
Lake Maggiore
Another of Italy's great lakes — with views just as stunning Lake Como's. And honorable mention for the literary set: Lake Maggiore gets a shout-out in A Farewell to Arms by Ernest Hemingway, who wrote part of the novel there.
Switzerland
Yes, Switzerland. It's a short stop away from Milan. Grab your passport and head to a whole other country and culture.
Cinque Terre
The popular destination on the Italian Riviera. Or should we say destinations, plural? Cinque Terre is composed of "five lands" — Monterosso al Mare, Vernazza, Corniglia, Manarola and Riomaggiore.
Lerici
Cinque Terre too touristy for you? Then head on over to another spot on the Italian Riviera, Lerici. The seaside town is mostly under-the-radar, with equally gorgeous sun and sand.
Cremona
A must for music lovers — of the classical sort, that is. The famous Stradivarius violin was born here, and the town is still known for its musical instrument manufacturing. Cremona is also the birthplace of Claudio Monteverdi, the famed composer who's often dubbed the father of opera.
Pavia
This one's a quickie — less than half an hour away. Check out Certosa di Pavia, one of the largest monasteries in Italy. It's a gem for both architecture and stained-glass lovers alike.