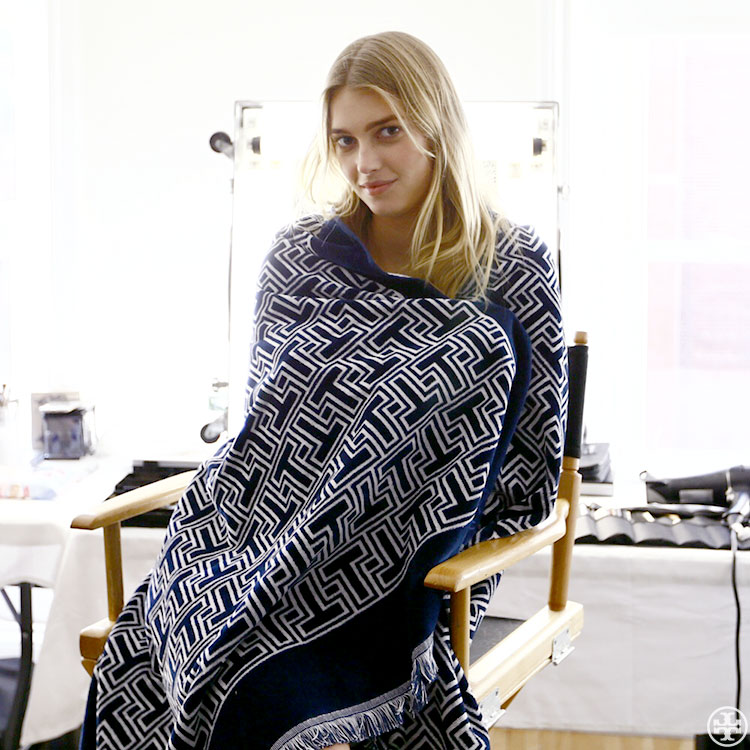 We caught up with model Sigrid Agren — above wrapped in Tory's T-Tile beach towel — in between takes during the Summer 2015 Lookbook shoot. Here, get to know the beauty from Martinique.
I first moved to New York…
Six years ago. I love the constant energy and the mix of people — it's an amazing melting pot — and the never-ending new restaurants and stores…
What I do in my spare time…
I love to be in my Tribeca neighborhood. I love going to MoMA and the Met, seeing exhibits and hanging out with my friends. I'm not a big cook, but I live to entertain. And I love getting massages.
What I listen to…
It depends on the time. In the morning — Rihanna, Beyoncé, pop music, R&B… At the end of the day — Bob Marley. It reminds me of home. I put the heat up and pretend to be back home while listening to my favorite song, Jammin'.
What I wear…
Black skinny jeans, black flat booties and a comfy sweater. I like to walk around, so I like to wear flats. Heels are work; flats when I'm off!
My ideal summer…
I would like to spend time in Europe. I love Biarritz, and I'd love to go to Puglia. I love Italy but have never been there. I went to the Amalfi Coast a few years ago and it was breathtaking. It's very old fashioned, but I love that about Italy.
Favorite getaway…
Martinique, a small island in the Caribbean. It's an amazing ocean paradise, with white sand beaches… My mom was born and raised there.
My fitness routine…
I do boxing, which I started last year. It's one of the best workouts. It's cardio-strengthening and jump rope… It's the most complete workout you can do.
And what I wear to work out…
I wear leggings and a loose short and a sports bra.
My zodiac…
Taurus — April 24th. I'm very loyal like a Taurus. I'm very stubborn, too!