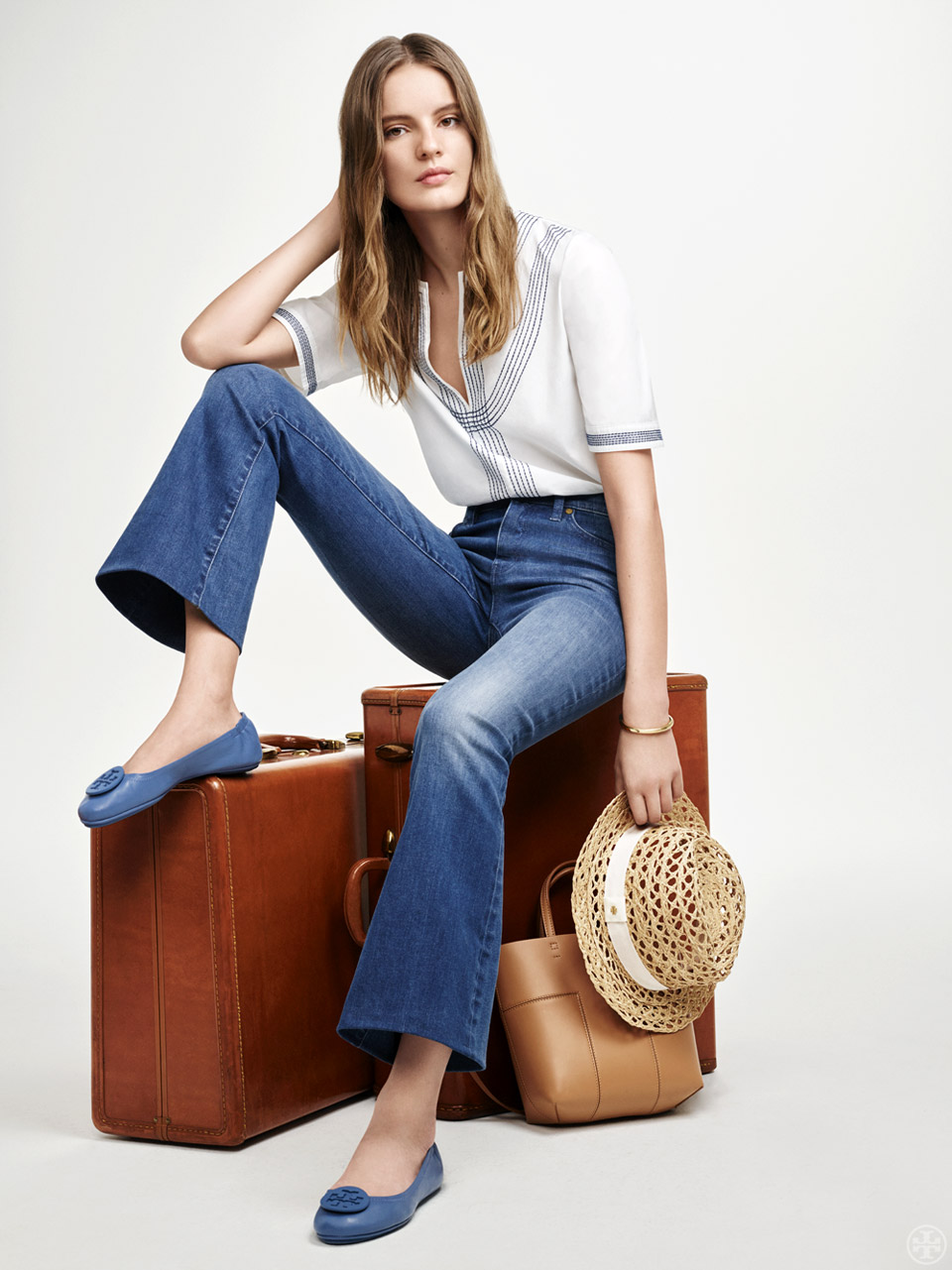 My recs for carry-on essentials…
A cashmere blanket, a shoe to change into while on the plane (some sort of slipper shoe or ballerina type like Tory's
Minnie
), a cosmetic bag with all the essentials (moisturizer, hand lotion and sanitizer, lip and eye balm, tooth and hairbrush), and a sleep mask.
And for the perfect en-route travel outfit…
Regardless of weather, one will always look put-together wearing a blazer, a pair of ankle skinny jeans, a top and a scarf. Also, a good pair of sunglasses are a great ally after landing from an overnight flight.
Travel must-haves when traveling…
A lightweight leather or a suede trench. A wool tailored dress — it's a staple piece that's versatile and can go from work into evening. Sweaters — very practical. For the spring and summer seasons I always recommend a cashmere blend (silk or cotton) — it travels well and doesn't take up too much space in the suitcase. Tops in cotton and crepe silk (although they wrinkle they are easy to steam). A pencil and an A-line skirt — classic styles that always look right. And as far as pants go, I always like my clients to bring a variety: a pair of culottes, an ankle-length pants, leggings and jeans.
Footwear must-haves…
Although choices needs to be edited, I believe it is important to have shoe options to complete each look. My five favorite styles are a pump (a classic that never goes out of fashion), a beautiful strappy high heel sandal (always look sexy), ankle boots (depending on climate), slip-on sneakers or an espadrille in an exotic skin (a modern and comfortable option that can take you from Charles de Gaulle to Avenue Montaigne looking stylish).
Other accessories must-haves…
Totes are a great style to travel with as they are super versatile and leave plenty of room for travel souvenirs, plus a clutch to wear at night. In terms of jewelry, a watch is always useful and a beautiful pair of earrings are key.
Packing tips…
I put heavier items on the bottom of my suitcase. including shoes (in shoe bags), bottoms and outerwear. I usually leave pieces that wrinkle easily unfolded in a plastic dry-cleaning bag or garment bag with lightweight hangers. Lighter pieces like light sweaters/shirts go on the top of the suitcase. If you're packing something on the more delicate side, like anything beaded, I advise my clients to fold and wrap the garment in tissue paper or leave it hung on a hanger inside a garment bag. Accessories should be packed by category, each in their own accessory bag. Valuable jewelry should always be packed in your carry-on/handbag. To maximize space and minimize creasing, roll clothes lengthwise, although I would only recommend this for casual/day pieces.
My suitcase of choice…
My suitcase of choice is a discreet Rimowa (titanium), durable and lightweight.
The Custom Project treatment for my clients who travel…
If a client is going on a long trip, I usually prepare an electronic lookbook for them based on the trip itinerary and, of course, climate. Based on that, I give them options on how to wear one piece of clothing (tops, bottoms, dresses) more than once, as well as giving them different accessories options to vary the look. The lookbook has images of both clothing and accessories, with looks segmented by day and occasion, including suggestions on how to wear their hair and make with each look.
My own personal travel essentials…
A large Goyard duffel bag, a charcoal cashmere blanket from Oyuna, an iPad and MacBook, tons of magazines (yes, I still subscribe to them!), Burt's Bees lip balm (my lips get very dry while traveling), two large bottles of SmartWater, melatonin, Bang & Olufsen earphones, and my Mykita sunglasses for when I land.
Favorite spring travel destination…
I love Seville, during Semana Santa (Holy Week). It's a very special time of the year to be there due to the beautiful processions happening in the streets. I like to watch the floats carrying religious works of art dating back as far as the XVII century from a friend's balcony home or the Alfonso XIII Hotel terrace. The perfumed orange trees lining the streets are at their peak during this time of year. And, of course, it's always fun to go out at night, starting with watching a flamenco performance at Tablao El Arenal and then going out for a late dinner and drinks.