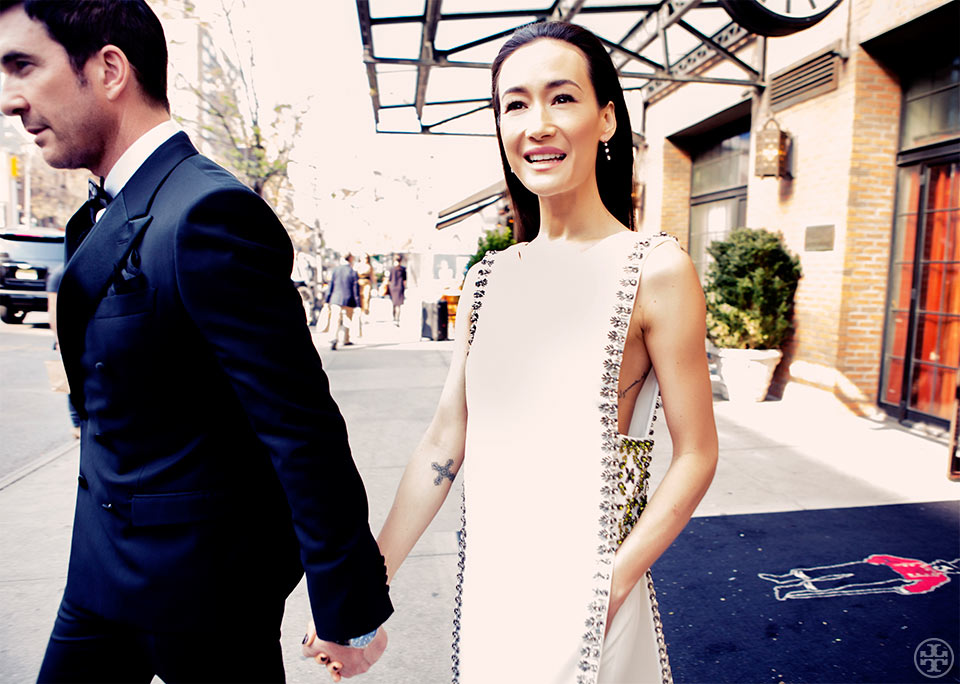 Maggie Q is one kick-ass actress. No, really. Literally. After a brief stint as a model, the Honolulu native carved out a career as an action star — who actually does her own stunts. Plus, she's held her own co-starring against some of the industry's toughest action heroes, like Bruce Willis and Jackie Chan. We got a chance to talk to Q, currently starring in Stalker (alongside fiancé Dylan McDermott), before the Met Gala, which she attended with Tory, Mélanie Laurent and Dianna Agron. Here wearing a custom Tory tunic-and-pant ensemble, she talks about insane stunts, her Nikita years and auditioning for J.J. Abrams.
Women in film…
Are captivating.
The acting bug bit when…
I don't know that I was bit by any bug so to speak, but I do know that around my third project I was in a particularly challenging role — and the way it pushed me made me realize something I hadn't realized before. It triggered my heart. It wasn't that I wanted to do this job — I had to. It was part of who I am.
Most memorable stunt I've ever done…
That has to be Live Free or Die Hard. I was on the hood of an SUV that crashes through a wall and down an elevator shaft. All me, no double. Not sure who I think I am sometimes! Ha!
And most memorable audition…
When I auditioned for J.J. Abrams for MI3, I had a 105 degree fever. I went from sweating to violently shaking from being cold, every few minutes. I tried to hold a tea in my hand and it was spilling all over me, I was shaking so hard. I still did it, got the role and couldn't remember I did till two days later when I woke up!
My pre-performance ritual…
It depends on the role. Sometimes it's very involved. And sometimes it isn't. On purpose. I'm instinctual, so I try to listen.
In between takes, you can usually find me…
Doing push-ups or squats.
If not an actress, my fantasy career…
I would love to be Wonder Woman and bring vigilante justice to women, children and animals who need defending. With my invisible jet, they wouldn't even see me coming!!!!
Favorite kick-ass role…
My last series, Nikita, allowed me four years of different choreography in the fight world. It was my favorite journey. It was my vehicle and so I was very involved from beginning to end, especially with the physicality. We worked SO hard. I'm proud of it, because I grew.
And favorite line from any of my roles…
I can't think of one???
One thing people would be surprised to learn about me…
I feed people. I love to cook. If you are around me, I will make you food. It's what I do…. lol!