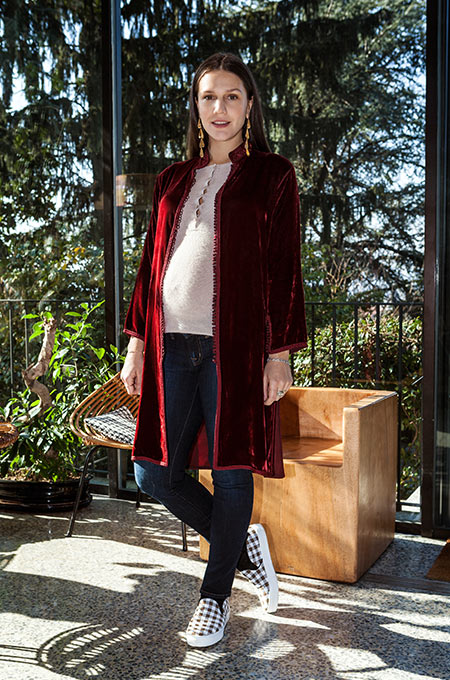 What's that idiom about the apple not falling far from the tree? Just this spring, Margherita Maccapani Missoni — yes, of the famous Missoni clan; her mother Angela is Creative Director — unveiled her very own ready-to-wear collection… for the junior set. We talked to Missoni about this new children's line, named Margherita, and her dual role as daughter and, now, mom.
My children's line, Margherita, is…
Proper children's clothes, not adult clothes for children or little princess-type things. Once Otto was born I realized how many kids clothes are made by people who don't have kids: the arms don't go through the sleeves or you can't wash the fabric. For me, the priority was that children should be free to run, jump and get dirty, as well as choose their own clothes, experiment to get confident with their own choices and develop their own aesthetic — hence the collection is built with comfortable, easy-to-wash, affordable pieces that are made to be mixed and matched… There is no perfect ensemble here.
And the inspiration behind it…
Becoming a mother changed my perspective on things. I suddenly wanted to be able to make decisions about my time and pace my own life — this I could only do by starting my own business.
My favorite pieces from the collection…
The blue fish-print romper and the long-sleeved striped knit with a central pocket.
My Mother's Day traditions now…
I've never celebrated yet!
And when I was growing up…
Picking spring flowers for my mummy.
Best Mother's Day gift I've given…
I guess drawings.
And received…
Nothing yet!
Best lesson my mother taught me…
To trust my instinct.
And best style advice learned from her…
Don't pluck your eyebrow!
Favorite childhood memory with my mom…
Strolling around flea markets, making biscuits together.
And favorite mommy-and-me time now…
Taking baths together.
Best lesson I've learned from being a mom…
Live the moment.