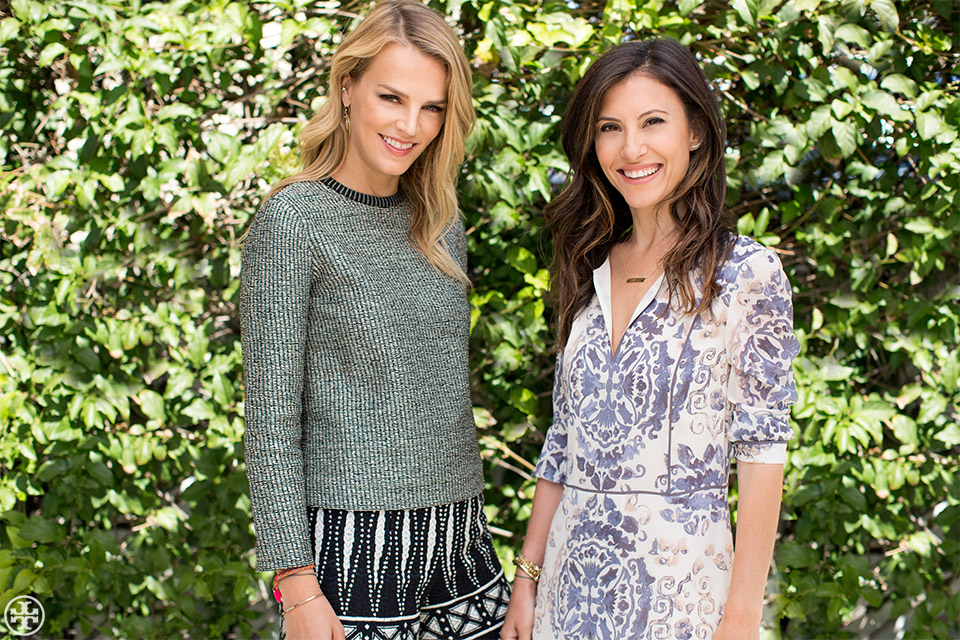 As we continue with our Mother's Day Issue, we turn the spotlight on an entrepreneurial duo at the helm of the L.A.-based charity Baby2Baby, which provides low-income children with diapers, clothing and basic necessities. Here, Co-Presidents Kelly Sawyer Patricof, left wearing Tory's raffia pullover and Savora tweed shorts, and Norah Weinstein, in a dress from Spring 2015, talk to us about their endeavor and being moms.
The inspiration behind our involvement in Baby2Baby…
NW:
There is no shortage of inspiration at
Baby2Baby
. When moms have to choose between food and diapers for their kids, there is inspiration to change that every day.
KS:
When I lived in New York I volunteered at the
Northside Center for Child Development
, a
Head Start
center in East Harlem that my mother-in-law was the president of. During my time there I met so many children who didn't have the basic essentials. There was a boy named Brandon whom I helped with his math and one day he started crying and said he couldn't do his work. I asked him what was wrong and he told me his feet hurt. I realized he was wearing shoes three sizes too small, was in pain and couldn't do his schoolwork. After that I knew I wanted to do something to help kids get their basic needs met.
How we met…
KS: My father-in-law Alan loves to set my husband and I up on blind couple dates. We had just moved to Los Angeles from New York and so had Norah and her husband. So we had dinner and the rest is history.
Most exciting thing about owning your own business…
KS: The most exciting part in my mind is that we have big visions for Baby2Baby and we don't have to answer to anyone; we can just make them happen.
And the most challenging…
NW: There is so much energy in an office of 95% women. But it is not without its challenges. :)
KS: The challenge is always that there is never enough time in the day or resources to help every low-income child, but we're working on it!
The greatest lesson we've learned at Baby2Baby…
KS: That if you have a vision and put your mind to it, you can make it happen. We started with 800 square feet and one employee and now have a 10,000-square-foot warehouse, 12 employees, tons of interns, a huge volunteer program and are serving 100,000 low-income children.
And greatest lesson learned from my mom…
NW: My mom told me to get a law degree. She said you can be whatever you want to be, but have a law degree to fall back on.
Favorite Mother's Day traditions…
KS: My kids make me breakfast in bed (or pretend to) and there's nothing I love more than a Sunday morning spent in bed.
Best Mother's Day gift I've given…
NW: I wrote a letter to my mom in the newly published A Letter to My Mom, created by Lisa Erspamer, thanking her for the impact she has had on my life. My mom carries it around with her — she is so proud.
And received…
NW: Phone covers with our kids' photos from Tiny Prints!
Proudest parenting moment…
NW: When my daughter dressed up as the Co-President of Baby2Baby for her first grade Community Helpers Day.
KS: My daughter started her own Kickstarter campaign to help save the rainforest when she was seven. I love that she took something she felt passionate about and did something about it!
One thing I wish someone told me about being pregnant…
NW: That morning sickness is ALL DAY LONG.
KS: That you have to lose the weight eventually so you shouldn't have milkshakes at every meal… it's not that easy!
And about motherhood…
NW: That it is even better than you can possibly imagine!
KS: That you can still be yourself and have kids, that it doesn't have to change you and that it's so much fun!