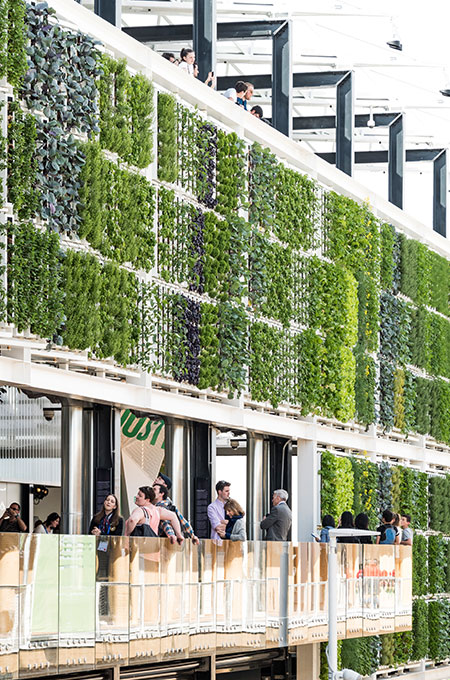 All month long the world's been abuzz about the Universal Expo held in Milan, which, this year, is dedicated to the theme of "Feeding the Planet, Energy for Life." There are 145 countries participating, each spotlighting cool developments in food and nutrition — and complete with breathtaking pavilions by a top-notch roster of architects. New York-based Biber Architects, headed by James Biber, is the creative force behind the USA Pavilion, whose highlights include a mobile vertical farm (above) and a boardwalk made from lumber straight from Coney Island. Here, James shares a Top 10 list of interesting facts about the design.
1. My Labradoodle, Louie, was the only accredited dog on the site before the opening of the Expo.
2. Because of the structure's open, airy and transparent design, about 10,000 people can visit the USA Pavilion in four hours on a quiet day.
3. At a whopping 7,200 square feet, the USA Pavilion has one of the largest living vertical farms in existence with close to 1,500 hydroponic planters growing 42 varieties of herbs, vegetables and grains. There are enough superfoods and antioxidants on the vertical farm to satisfy many juice cleanse diets.
4. An interior boardwalk that stretches the length of the pavilion is made from salvaged lumber from the Coney Island boardwalk.
5. The pavilion features the world's largest smart glass roof with 312 SPD-SmartGlass panels that can change from opaque to transparent in a matter of seconds and can be controlled — like individual pixels — from a touchscreen tablet.
6. Despite its short lifespan, Biber Architects designed the structure to be as sustainable as possible, using low-energy LED lighting, motion-activated escalators, recycled and recyclable metal cladding, a water-efficient irrigation system and panels that provide natural light and increased ventilation. In addition, many of the components of the pavilion will be resold or returned after the Expo and the entire structure can be disassembled.
7. Located in the heart of Milan, the James Beard Foundation has opened the James Beard American Restaurant at Seven Stars Galleria hotel. The restaurant will showcase chefs, products, ingredients, beverages and other American gastronomic delights throughout Expo Milano's six-month run. The JBAR also has exclusive rights to a secret window with a view high above the galleria — the main attraction of our daily aperitivo before dinner!
8. Our stylish Student Ambassadors — outfitted by Brooks Brothers and Luxottica — start each day with a dance party on the roof.
9. Food Truck Nation consists of six custom-built Fiat Ducato food trucks featuring different regional cuisines each week. It's probably the only time you can eat a Maine Lobster Roll in Milan!
10. The USA Pavilion is the perfect place to take selfies with President Obama and the First Lady — at least virtually, via one of their large-screen portraits on display.