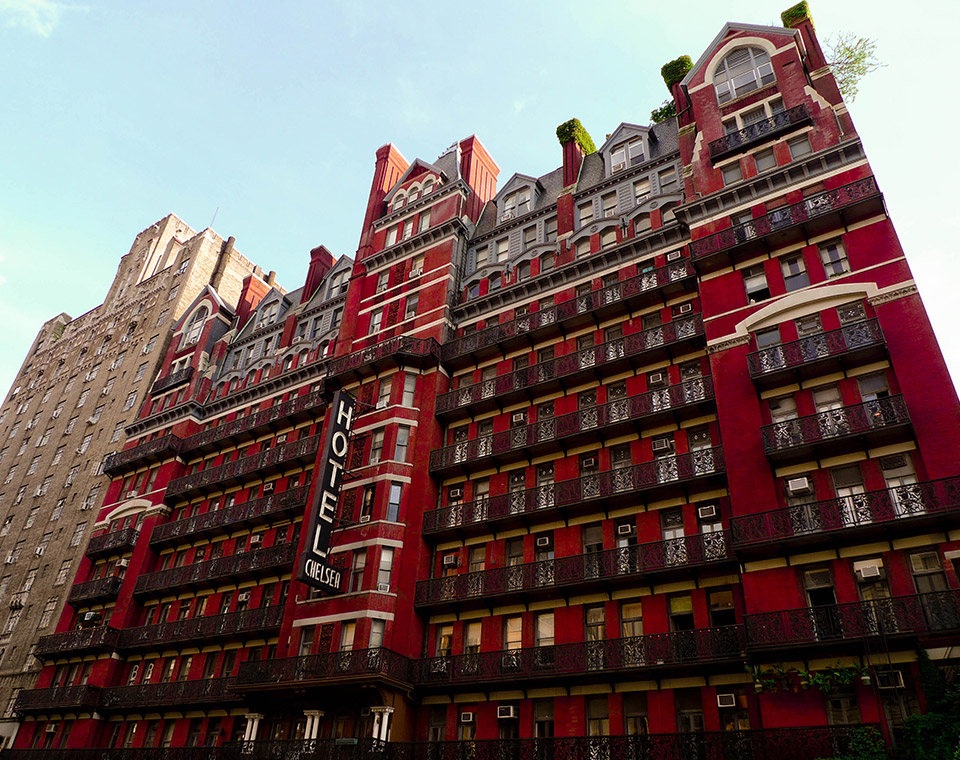 The history of New York's Hotel Chelsea is legendary. Janis Joplin, Bob Dylan, Leonard Cohen, Iggy Pop, Viva, William S. Burroughs, Stanley Kubrick, Jean-Paul Sartre and myriad bold-faced others have roamed the halls and counted its 222 West 23rd Street address as home. This week, that storied past gets a revival of sorts, with Cowboy Mouth: Young Artists at the Chelsea, a three-act cultural event opening June 10th and running through the 20th.
The name takes after a short play that Sam Shepard and Patti Smith wrote while staying at the Chelsea; Cowboy Mouth, which premiered in 1971, takes its inspiration from their own relationship and the creative environs of the hotel. A performance of the play will take place nightly — but that's only one part of the proceedings. The evenings kick off with The Traveling Bag, a visual and performance-art piece by artist Rachel Libeskind (daughter of famed architect Daniel Libeskind) and close with a rotating roster of musical acts, from bands Cookies and High Water (on opening night) to The Dough Rollers (the 19th and 20th).
Here, we interview Producers Amanda Hameline and Rebecca Feinberg, who's also the Director, about the inspiration and drive behind the event and also got some one-on-one time with Libeskind to talk about her work and love of performance art.
Young Artists at the Chelsea is…
A group of artists from many disciplines — theater, music, dance, visual and performance art — working to create together and influence each other. We take inspiration from both the great artworks created at the Hotel Chelsea in its heyday and the collaborative atmosphere that thrived within the hotel.
And the idea behind this June series…
Was born back in October 2014 at Amanda's kitchen table, over glasses of whiskey and discussions about a post-collegiate lack of an artistic community and the scarcity of space and resources necessary to present work. Rebecca had finished reading Patti Smith's memoir Just Kids and mentioned a play in it that she wanted to direct. We found the text for Cowboy Mouth, read through it and had the ballsy idea to put it up in the very space where it was written: the Hotel Chelsea. With some more research we realized that the new management of the Hotel was interested in continuing the Chelsea's legacy as a site of artistic creation in New York. As we developed our idea we focused on the fact that the Chelsea was a space where artists of all kinds worked together and influenced each other, leading us to bring music, movement, visual and performance art into our production. Over the next months we spent hours putting together a proposal, building an incredible team, and now we are here, just a few floors below the room in which Sam Shepard and Patti Smith wrote this play. In the Chelsea we found both space and inspiration, and in our Cowboy Mouth team of over 20 artists we found an incredible community.
The original Cowboy Mouth play…
Was largely influenced by Sam Shepard and Patti Smith's time together. Sam Shepard had left his wife in Brooklyn and was shacking up in the city playing in a band, the Holy Modal Rounders. Shepard and Smith passed a typewriter back and forth to write the play and starred in its first production in 1971. Sam Shepard walked out on the third performance and went back to his wife.
Cowboy Mouth still resonates today because…
Because the play is largely about an artistic hunger to create — and the emotional, social and economic barriers that get in the way. This is very much a struggle that all artists, and people, still feel today.
One personal anecdote about Hotel Chelsea…
AH: There was a poster of Robert Mapplethorpe and Patti Smith in my apartment growing up. I always thought it was my parents… and I was afraid of it. Like, wow, my parents used to have really messy hair. I was a rather uptight child. Once I got a bit older and more into messy hair I became fascinated by the Chelsea. Growing up in New York the Chelsea was always a place I knew about as a part of the thrilling, exciting and artistic (albeit sometimes dangerous) New York of before my time — a lost New York. It is a dream to be working to bring a bit of that magic back.
RF: When I was a little kid, I came to New York a lot to visit my grandparents. As a huge theater nerd, my favorite thing to do was go to Broadway shows. One night, my mom and I were walking around after seeing Rent for the millionth time and we passed the Chelsea and I remember standing outside and looking at all the plaques. I saw all the names of these different artists and was struck to the core. It was the first time in my young life that I realized there was an art that existed outside movie theaters and Times Square. It totally changed the way I thought about the work I wanted to create and ever since then I've been fascinated with the history of this storied locale.
I became involved in Cowboy Mouth: Young Artists at the Chelsea…
I was brought in as a performance artist by the Director, Rebecca Feinberg and the Producer, Amanda Hameline. Though we went to college together, we actually didn't work on any collaborations until this one.
My performance-art piece, The Traveling Bag, is…
A performance that deals with stuff, with packing and with what gets left behind. It's very improvisational, and ultimately has multiple iterations depending on where it is performed. Since I am performing at the Chelsea Hotel, a famous port of transit for artists of the last century, there is an additional layer of meaning in the work.
And it ties to the Cowboy Mouth theme…
The Hotel Chelsea has seen many bags open, close, be broken, be lost, explode… The suitcase has been the most consistent character in this building. My aim is to bring The Traveling Bag into the world of Cowboy Mouth, so it becomes a synthesized collaborative work.
The art bug bit when…
The art bug bit a long time ago. It's always been present; as a child I performed music and acted professionally. As an adolescent I continued in music and made my forays into art. By the time I got to college, it was clear that making art was a priority to me and my personal happiness in the world.
My work is about…
It deals with history, it deals with being alive today. It attempts to bring the past into the same specter as the present, and future. It is dark but funny, and it's serious but loose.
Why performance art…
One of those things that has distilled itself on my horizon. Performance keeps following me around, no matter how hard I try to assuage it from my practice, it continues to reveal itself as a strong and meaningful art form to me.
My art influences…
Louise Bourgeois (!), Bob Rauschenberg, Phillip Guston, Robert Wilson, Frank Sinatra, William Faulkner, my family.
As an artist, I could never be without…
A little bit of magic.
One personal anecdote about Hotel Chelsea…
Dylan Thomas, Leonard Cohen, Robert Mapplethorpe, all heroes of mine from a young age — I used to picture them in their destitution and dream of that reality becoming mine. It's exciting to work in a space with such a rich psychic history.