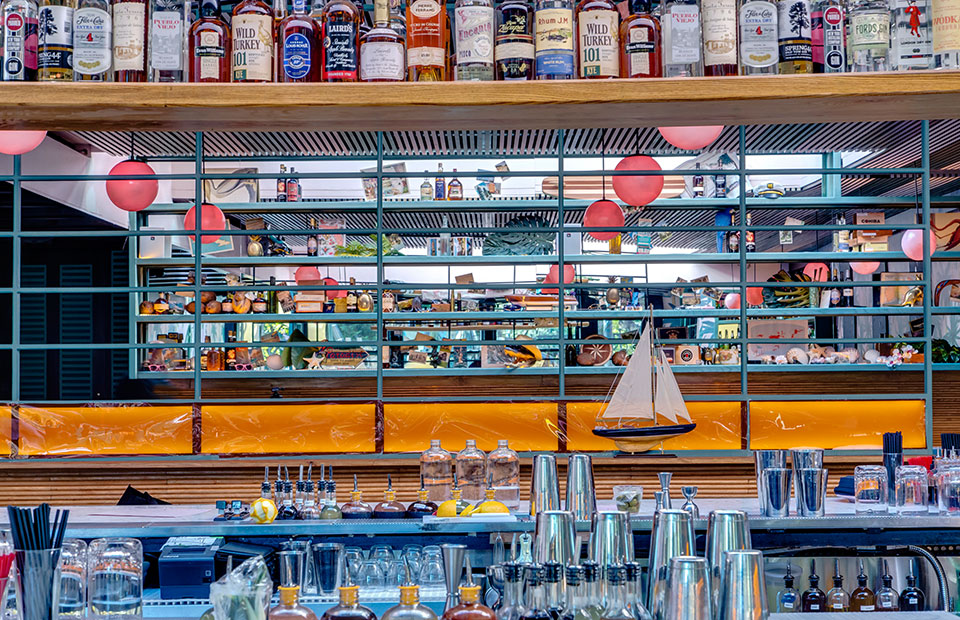 New summer destinations to enjoy great eats and refreshing libations
Happy hour — always good. The Happiest Hour? Even better. Inspired by the resort destinations of mid-century Florida and California, this bar and restaurant in the West Village stays true to its name and evokes all things laid-back, carefree and happy. Just take one sip of its cocktails — say, the sugar shack with Jamaican rum and salted maple syrup — while the of-the-era ditties of Ella Fitzgerald and Gladys Knight blast from the soundtrack and you'll feel like you've slipped away into a sun-kissed getaway escape.

Londoners getting their shop on at Selfridges this summer can have their Comme des Garçons and Cornish shrimp burger, too. There's a new pop-up restaurant on the rooftop, Vintage Salt, which takes after a Cornish fishing village. Translation: more surf than turf, although the menu does include coal-charred rib-eye and grilled spring chicken among the plates. Or you can just celebrate your latest round of retail therapy with a round of summery cocktails, like the basil berry brew, chillirita and dirty sea martini.

The Whitney Museum isn't the only shiny new arrival to the High Line in New York. Restaurateur Danny Meyer of Gramercy Tavern and Union Square Cafe fame has opened a fine-dining eatery right inside the Renzo Piano-designed museum, stunning floor-to-ceiling glass windows and all. Open to the public for lunch and dinner, Untitled features such as seasonal fare as crab and pickled pepper fritters, lightly cured vegetables, and roasted and fried chicken salad with kale and snap peas.

Art lovers on the continental side, meanwhile, can head on over to the new RIJKS® restaurant of Amsterdam's Rijksmuseum, which, last month, was just dubbed European Museum of the Year by the European Museum Forum. Beautiful digs aside, the restaurant's been grabbing headlines for its organic and/or locally produced ingredients as well as its rotating program of international guest chefs. If you visit now, you can enjoy Dutch fare with a South African tilt, courtesy of guest chef Margot Janse of Franschhoek's Le Quartier Français.

Looking for a spot in high-energy South Beach that's a little more on the restrained side? Check out 27 Restaurant & Bar, a stone's throw from Ocean Drive. Located in a classic Thirties Art Deco building, 27 is a split-level boîte; the dining room is downstairs while, upstairs, you'll find a chic yet cozy lounge. Ingredients are all locally sourced, including produce straight from the property's own gardens. As for the food, it reflects the city's mix of cultures, with nods to Cuba, Asia, the Caribbean and Israel.

Celebrated French architect and interior designer Jacques Garcia has added his luxe touch to a number of boldly arresting haunts, from La Mamounia in Marrakech to Hôtel Costes in Paris. His latest endeavor? A revamp of Rome's Casa Coppelle restaurant. In the heart of the city, a close stretch to the Pantheon, this classic eatery now boasts a number of intimate — yet grandly decorated — dining rooms, with extravagant Rubelli textiles, crystal chandeliers and Old World portrait paintings. The menu, meanwhile, is rich on the Italian with a dollop of French — Amarone risotto, braised beef tortello, artichoke tarte tatin and foie gras with caramelized apples.

Restaurateur Alan Yau has put his stamp on a number of famed Chinese-inspired eateries, including the Michelin-starred Hakkasan and Yauatcha restaurants. The Duck & Rice, in London's Soho district, is the newest addition to his starry roster. No detail is left unturned in this Asian gastropub, from the culinary (comfort classics like Cantonese roast duck and Sichuan vegetable dumplings) to the design (chicly outfitted by Turkish studio Autoban). Then there's the audio portion: The Duck & Rice features an update to the old pub jukebox where you can join the restaurant wifi and make track selects that play live.