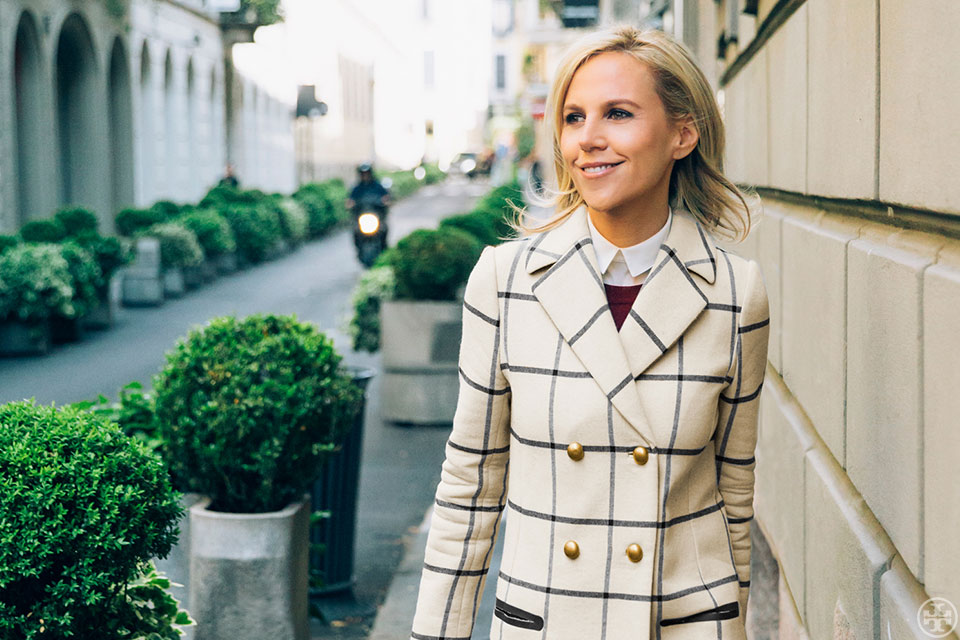 We chat with Tory about the statement graphics and accessories of the season.
What are you wearing in this picture?
I'm wearing our
plaid short coat
. To me, it represents everything great about
Carnaby Street
and the Swinging Sixties. There's a mix of his and hers in the school blazer brass buttons, and a soft cream palette. And the windowpane channels English heritage dressing.
Where else do we see the windowpane?
We also did the check in an elegant shirtdress with an attached tie that I like to wear in a Windsor knot (the preferred knot of my father and brothers). It's a perfect dress for in-between weather. Wear it alone as is with a low loafer or layer it.
What are you mixing it with accessories-wise?
There's something classic about the windowpane that's both town and country, and I like how rich neutrals work against it. Especially deep earthy tones — our Brody satchel in berry, a pair of tortoise sunglasses and, of course, my favorite boot this season, the Bond.
It all feels very refined…
It definitely taps into an elegant idea, but I can't resist something bohemian. One of my favorite pieces is a horn necklace that is based off a cherished pendant a close friend gave me over a decade ago. The resin horn feels like it could have been found in a souk, but the oxidized studded finish has a tough chic finish.