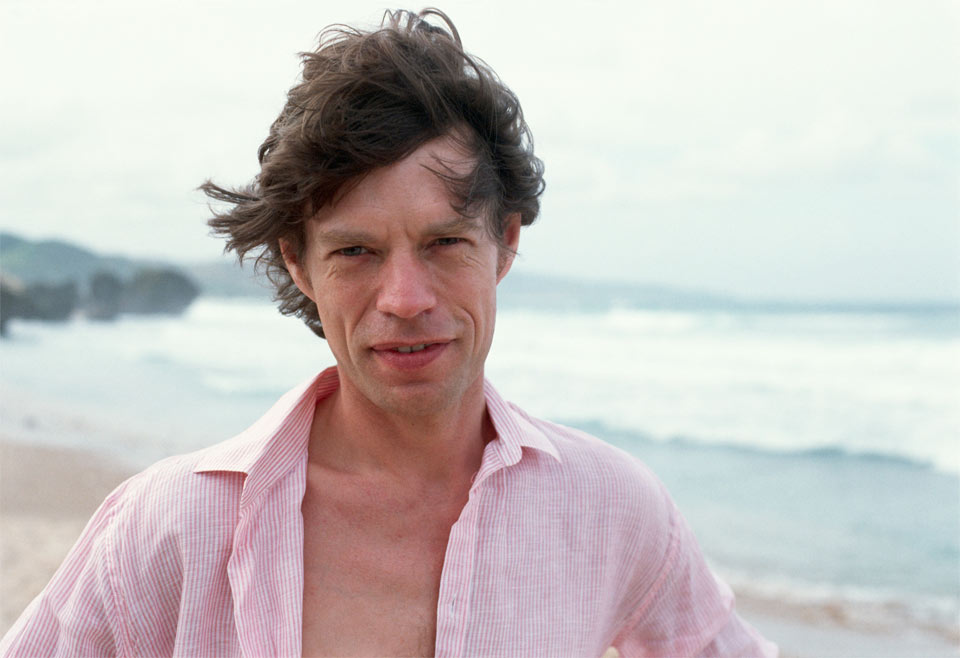 Susie Cox's chapter on Leos, in her book Susie's Sun Signs, could very well have been dedicated to our zodiac personality of the month: Mick Jagger. Just read her various descriptions of this sunny sign:
"Confident," "charismatic" and "flashy."
"Leo is the entertainer and entertain they must."
"Leos own glamour in a big way."
"Their presence is commanding and they most definitely stand out in a crowd."
"Leos are also very attached to their long hair, which often resembles the lion's mane."
Sound familiar?
For over half a century, Jagger's been a magnet for adoration and attention. There's no denying his consummate stage presence; he is the rock star's rock star. "This fire sign radiates warmth to its adoring fans, who huddle around the Leo for comfort from the cold," continues Cox. "Leos love an audience — no, they need an audience."
The Guardian, in a 2012 article, once called him "a 20th-century Byron… It's the crowd reaction that makes one think of Byron, girls climbing up the platform for the ecstasy of touching him. Like Byron in his period, Jagger was the focus of hysterical sexual fantasy." And fellow Rolling Stones' bandmate Keith Richards — with whom Jagger had a famously love-hate-love-hate friendship — noted in his 2010 memoir, "It's almost as if Mick was aspiring to be Mick Jagger, chasing his own phantom." (On the flip side of this confidence coin, Cox says that a Leo's biggest challenge is vanity and ego. One of Richards' biting nicknames for Jagger? His Majesty.)
Then there's this jewel of a line in Susie's Sun Signs that's practically tailor-made for Jagger, whose hips are as celebrated as his lips: "Leos don't walk," Cox writes. "They strut."
To discover more about this month's horoscope from Cox, now that we're in the sun sign of Leo
(July 22nd – August 22nd), keep reading.
Leo
Happy Birthday, grand Leo! With four planets in Leo until August 15th, this is a very special birthday for you. Have a big birthday party for yourself and do it in splendid style. You deserve it!
Virgo
Mercury enters your sign of Virgo on August 7th. Save any detailed work on projects until after that date and you will see it be completed easily and in record speed.
Libra
Your power dates are August 16th through August 19th. Venus is your planet and you will feel her presence with you then. Plan for events that focus on beauty, luxury, sociability and love — you can't go wrong.
Scorpio
Dear Scorpio… You're in a Saturn phase until mid-September, so don't feel bad if there are piles of unfinished business in your life now. One by one, clear them away. I know you can do it and now is the time!
Sagittarius
The geometry in the sky is very favorable for you, Sagittarius, from July 26th through July 28th. You will feel in the mood to be social and will want to talk to people, especially around music or art. Go to a concert or an art opening.
Capricorn
Capricorn in the authority figure of the zodiac, and you will be using that talent to calm down a sticky situation on July 28th and July 29th. Those around you will be unusually agitated, so keep your calm.
Aquarius
The full moon is Aquarius this month on July 31st, which is a Friday night. The theme for this Aquarius full moon will be the unusual, eccentric and odd. This is the time to try something wild that you have never experienced before.
Pisces
You will have to make a difficult decision around August 1st about a relationship that will resurface from the past. Do you really want to go back or do you like where you are now?
Aries
There are many planets in fire signs now, in addition to Mars traveling with the sun. This will be a very active month for you, especially the first week in August. Use all this fire energy in a positive way and start something new. Be sure to keep your cool.
Taurus
This month will be about family for you, sweet Taurus. The leaders of your family are having a bit of trouble now and will be counting of you for support. Plan to spend some extra time with them soon.
Gemini
You're feeling much better now that Mercury has gone direct, thank goodness. In fact, you feel so strong that some new business is coming your way, especially the first two weeks in August. You're on a roll now, Gemini!
Cancer
Stressful Mars has been in your sign of Cancer since June 25th and will leave on August 8th. Finish any family business you need to complete by that time and you will feel relieved.