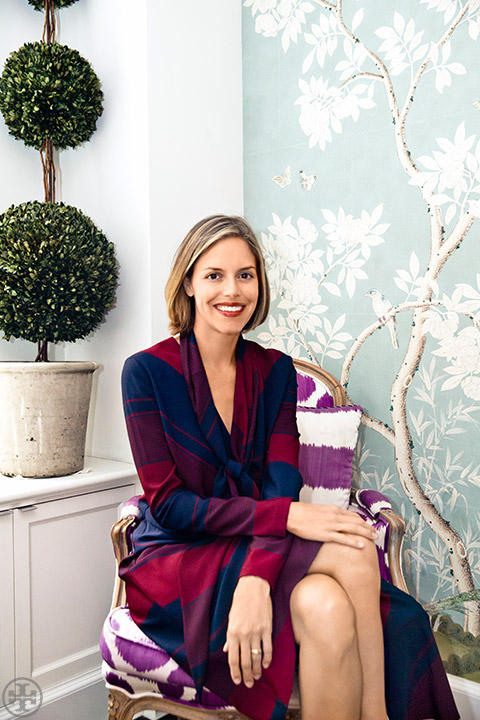 Interior designer Lilly Bunn's look is the perfect marriage between two powerful influences: a childhood spent on Manhattan's Upper East Side in the Eighties and years of training behind the scenes of the fashion world as an editor. The result? She's fearless when it comes to color and bold patterns and isn't afraid of giving a nod to the past when creating a chic, modern look for her clients. Here, wearing Tory's crepe tie-neck, bias-cut dress, she shares her favorite design resources as well as easy tips for updating your home.
I became an interior designer because…
When I was young (in the Eighties), I loved going over to friends' houses… specifically those that were decorated really 'over-the-top'. The general Eighties decor look was super busy, bold and somewhat outlandish but inspired me to really have fun with creating a living space.
My childhood bedroom was…
A bunk bed and old furniture that had no other place to go. My parents were super casual and we rented a few different apartments over the years. I do remember feeling really lucky to have Laura Ashley wallpaper in my bedroom at our Southampton home.
If I could have designed it myself…
Chinz! Tassels! Pink and green! This was the 1980s look!
My design influences…
1. My friends because I am always studying how they live and what they're buying. 2. Fashion magazines and clothing. I usually find that trends translate nicely into the interiors sphere. 3. Jacques Grange. Jacques Grange. Jacques Grange.
Favorite house in the entire world…
Kate Spade's apartment in New York, decorated by Steven Sclaroff. I always go back to that one. It's just so chic in every way. It's casual and formal and quirky.
To add more color to your home, I suggest…
Flowers! Pillows! Throw blankets!
One easy way to make your home look new without a redesign…
Paint. I think a great paint job can make such a huge difference. I also love white walls. They bring in so much light and they just look fresh.
My favorite online design resources…
1stdibs, Viyet, eBay.
And favorite flea markets…
The Attic Door in Oyster Bay, New York. I never know what I'm going to find because it changes every day!
When entertaining at home during the summer, my table is set with…
Wild flowers, red and white checked napkins and lots of those fake candles (so they don't blow out). I also throw in a few real candles, too.
And my summer menu always includes…
Steak. Rosé. Corn.