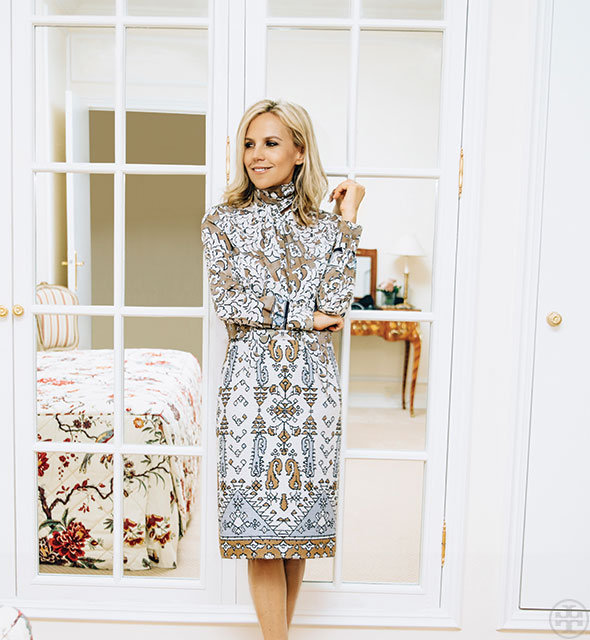 What inspired Fall/Winter 2015?
I kept thinking, "Marrakech meets Chelsea." Inspired by London bohemia, Fall/Winter 2015 focuses on beautifully crafted embellishments, a mix of textures, carefully engineered patterns, bias cuts and the play of masculine and feminine. Accessories — including arrowhead jewelry, small saddlebags to oversized carpetbags, boots with carved metal heels and mules with studs — add to this bold mood.
Why that particular moment and those places?
It's no secret I love the Sixties and Seventies — there was so much happening in music, art and fashion in Chelsea at the time. And Marrakech is one of my favorite places. It's a real crossroads of cultures, of old and new. It's a beautiful clash — the prints, patterns and silhouettes.
Is there a print you're most excited about?
The Lisbon print I'm wearing here — it's inspired by classic Essaouiran patterns. It has an antique tapestry feel, but we translated it into chic jacquard coats and vests, jersey dresses, wrap skirts and accessories. It's a versatile motif, especially in cool gray-blues and brown for fall.
You brought back your signature bow blouse. How did you do it differently this season?
We're leaving it loose or styled like a men's tie this time. Not as formal and feminine. And it's actually separate from the shirt. I love that versatility — you can tie it or not at all or just use it as a scarf. On the runway, we did that look with a caftan gown.
What are the main silhouettes of the season?
I have been wearing the bow blouse with a flared pant — the perfect balance of shape and Seventies ease. We also did a lot of bias cuts — on the diagonal — whether on leather or chiffon. It's ultra flattering and easy to wear. It's really how it drapes the body.
Any pieces in particular you're excited about?
So many! I'm really proud of our coats and jackets. They pick up on the Marrakech-Chelsea spirit and are really special. We worked beautiful tapestry patterns done in a classic men's wear silhouette — very streamlined — and introduced intricate Moroccan and Turkish patterns. They can be layered in with the patterns and prints of the clothes or worn over everyday jeans.
What is new in accessories?
We expanded our watch collection. I don't know… maybe as my boys get older I'm reminded more how time is the ultimate luxury. But I have always loved watches — I still have the one my father, Buddy, wore. He inspired our new Dalloway style, a feminine take on a men's bracelet. I also love the Amelia — a hexagonal band that doubles as a strong statement cuff with a Sixties fretwork vibe.
The sunglasses look just as much of a statement…
We all wear sunglasses year-round and have multiple pairs. So we wanted to make them as integral a part of the accessories story as they are our daily routine. We layered in so many interesting details: colored frames, oversized proportions, gold accents.
There were a lot of arrowhead details on the runway — why that particular piece?
We found a few arrowheads on our Valley Forge farm growing up, so it holds this nostalgia and mystery for me. There's a story there. It feels like a treasured souvenir, something found… either from a far-flung place or your own backyard. We did them in blue sodalite stone honed into sharp angles that make a sharp line and contrast against some of the softer bow blouses and dresses.