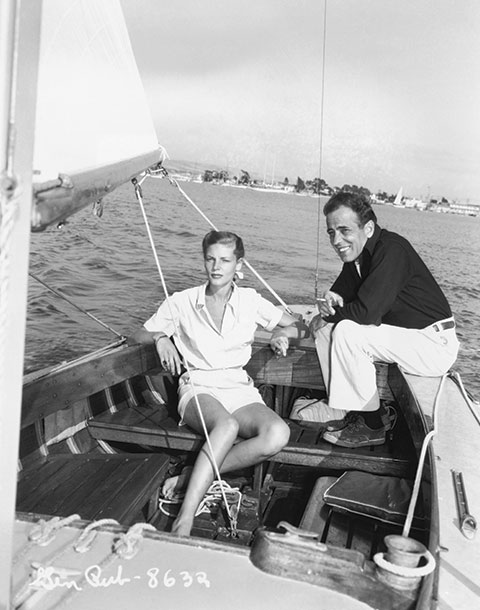 Actress Lauren Bacall never just talked. Or spoke, really. She
purred
— in that instantly identifiable sexy, throaty growl of hers. It's the voice that captured a nation the second she appeared in her debut film, 1944's
To Have and Have Not
, and uttered the immortal words: "You know how to whistle, don't you, Steve? You just put your lips together, and blow." Humphrey Bogart played Steve. Bacall famously captured him, too.
It's a testament to Bacall's diligence that her voice, that cool smoky seduction, was actually — as lore goes — the product of practice and hard work. Director Howard Hawks, who discovered her and turned Bronx native Betty Joan Perske into Hollywood's Lauren Bacall, allegedly thought her natural voice was too nasal and high. Some reports said he made her shout Shakespeare for hours; Bacall herself noted, at a public appearance in the Nineties, that she "practiced by reading The Robe aloud sitting in my car."
Bacall was, as astrologer Susie Cox might say, a Virgo through and through. "Virgos' earthy style shines through with their great sense of discipline and effective work ethic," Cox writes in her book Susie's Sun Signs.
And, indeed, in interview after interview, Bacall (born September 16th) makes reference to her steely work ethic. "I love to work. I am not a lady who lunches. I am not a lady who gives soirees," she told The Sun Herald in Sydney. "I work and that's what my whole life has really been about." To Montreal's The Gazette: "If I didn't work, I don't know what I'd do with myself. I hate parties, benefits, openings. I don't want to be a hostess… It keeps me occupied." And to the Chicago Tribune: "If I'm not working I'm ready to hang myself. I cannot imagine life without work. I don't think I could ever spend any length of time with anyone who does not have a job. What do they do?"
But a Virgo's exacting high standards leads to one of the criticisms frequently lobbed at them, too. Virgos can be extremely critical of others, Cox explains, "which doesn't go over too well." Not that this ever bothered Bacall, really. "My standards are high in life — which of course restricts me in many areas," she said in an interview with the Saturday Evening Post. "I'm very demanding about my kids, my friends, the work I do. I'm demanding about the people I work with, that work for me. If they don't like it, I can't help it — that's life, that's the way I am. I don't apologize for it."
To discover more about this month's horoscope from Cox, now that we're in the month of Virgo (August 23rd – September 23rd), keep reading.
Virgo
Happy Birthday, Virgo! Not only is the Sun in Virgo, but benevolent Jupiter has entered your sign too and will be there for one year. This is your year to think big and accomplish your ultimate dreams.
Libra
Mercury will enter your sign on August 28th and will do a retrograde in Libra from September 18th through October 10th. Plan to take some time to reorganize your life.
Scorpio
Hooray, Scorpio! Saturn is finally leaving your sign, where it's been since October 2012. You will be feeling lighter, especially if you resolved old issues in your life. If not, you have until September 18th. Buckle down and finish!
Sagittarius
It's now your turn, Sag, to host Saturn for the next two and a half years. Business deals, restructuring and streamlining are all in your future. The date to welcome Saturn is September 19th and guaranteed you will feel it.
Capricorn
Your power dates are September 21st to the 23rd when you will feel invincible. Plan to meet people in positions of power. Your gift of persuasion will get you everything you want. Be bold!
Aquarius
During the last few days in August, you could easily reunite with an old flame. If not, be open to meeting a new and exciting love interest. Sensuality is in the air for you, dear Aquarius.
Pisces
Pisces isn't the sign of the athlete, but you will feel in the mood to hit the gym more this month. Maybe have a trainer get you started again on a healthy regime around August 28th and 29th.
Aries
You have a window in time that could attract new love in your life. Go to parties or social events the first week in September and see if you have luck. Smile a lot and see who you attract.
Taurus
Your power dates are September 2nd to the 4th, which are the best dates for business meetings or looking at your finances. Be organized and think big — this is your time!
Gemini
You are one of the best writers of the zodiac and the muses are definitely with you this month, smart Gemini. If you're in the mood to put some words on paper, this is your month. Why not start that creative project you have on your mind?
Cancer
During the first week in September you will likely have an intense encounter with an authority figure. That will be the time to do some smooth talking to get yourself out of a pickle.
Leo
You're in luck this month, Leo, to have both the sensual planets in your sign. Venus and Mars are in Leo and will be joined by the Moon on September 9th through 11th. If you get up before the sunrise, you'll see them clustered above the eastern horizon… just for you! Love and beauty will be your focus.