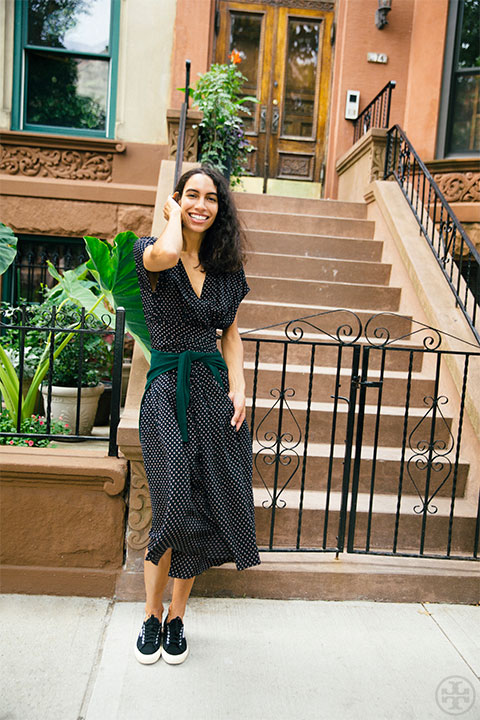 As the Associate Beauty Director of Glamour magazine, Simone Kitchens has the inside track on the best places to get pampered in New York City. Here, she divulges her go-to spots and shares some beauty tricks of her own.

I became a beauty editor because…
My first real job was at Lucky Magazine with Jean Godfrey-June. She's one of the most brilliant, hilarious editors out there. She made beauty seem so personal, but also really fun.
My NYFW beauty essentials include…
Burt's Bees lip balm, Charlotte Tilbury lipstick, Fig + Yarrow facial oil.
My personal beauty trick…
I've been hearing more and more about how great castor oil is for regrowing your brows and making lashes super long. It takes a few months to see any results — so you've got to hang in there — but it definitely works. And I like that it's a more natural alternative.
Favorite beauty trend for fall…
I always love a rosy-berry lip. Just add full brows and clean skin, you're good to go.
My morning beauty routine…
Lately I've been doing masks right when I get out of the shower — just for about five minutes. I like the new foam clay versions from Dr. Jart. Then I follow up with Odacite vitamin C oil, Grown Alchemist Brightening Serum and EltaMD suncreen.
And evening beauty routine…
More masks, more oils.
My favorite scent…
I've been wearing lots of scented oils lately. My current favorite is Jiva Apoha's Atman. It's a warm mix of palo santo, neroli and sandalwood.
My favorite New York spa…
The Mandarin Oriental is the best place to zone out. I love anything deep tissue.
And for the best facials in the city…
Joanna Vargas, hands down.
And for the best manicure and pedicure…
Tenoverten.
My fashion week workout…
A little all over the place, but I try to make it to the gym somewhat regularly with a few Pilates classes thrown in here and there. And I walk everywhere and only take the subway.
Best beauty advice received and from whom…
"Put down the eyebrow tweezers." — Me to myself in 1999
When it comes to beauty, never underestimate the importance of…
Not overdoing it. Don't overthink it.