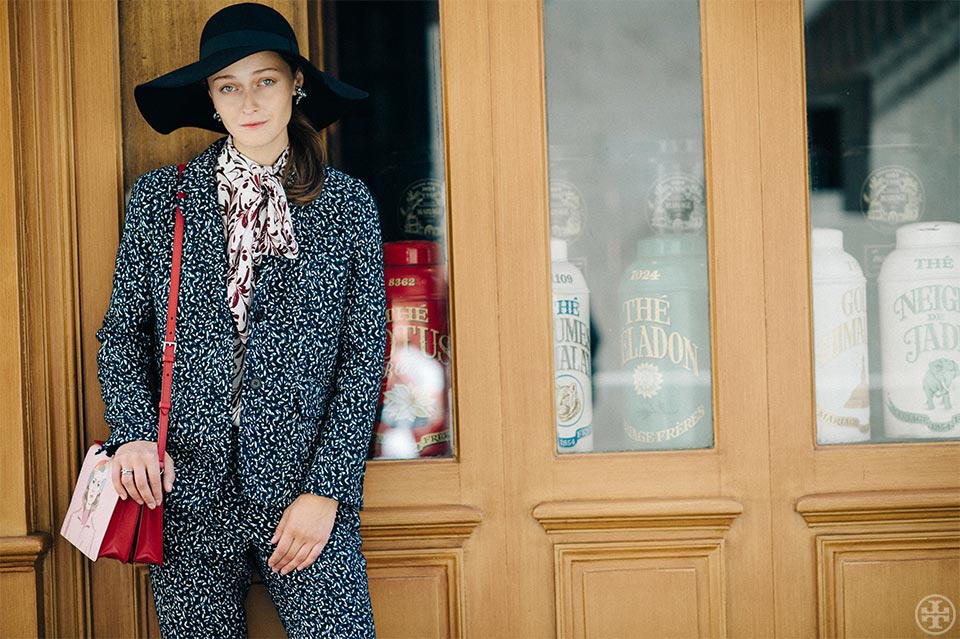 "Single-handedly" is the word most often associated with Daria Shapovalova. It's a compliment of the highest order. The young entrepreneur used her business acumen, street style and determination to turn the style spotlight on her native Ukraine, founding
Mercedes-Benz Kiev Fashion Days
,
More Dash showroom
and must-read
FW-Daily
. All of which she spearheaded as co-owner of
LMG group,
a multi-pronged fashion hub. And when political unrest — and revolution in parts of the country — erupted last year and flared right before the start of the Spring 2016 shows recently, Shapovalova still gives Ukrainian designers hope. She champions their businesses and collections in larger, visible markets, and she is their best advertising. When she posted a picture of herself in
Anna October
's polka-dotted crop top and matching pant during
Kiev Fashion Days
, over 50,000 people saw it on her
Instagram
. We caught up with the indomitable Shapovalova, seen here wearing our
Confetti jacquard jacket
,
printed blouse
and
pant
in Paris, days before she headed to Tbilisi Fashion Week.
My style is…
A mix of established brands and young designers, lots of accessories and high heels (unfortunately, I look good in them!). I would say my style is eclectic but feminine.
And my personal styling tips…
Layer if you can, don't be afraid of mixing prints and always add an unpredictable detail to your look — a hat, two identical bracelets or vintage earrings.
And when it comes to accessories…
I can write a book on accessories! I think every girl should invest in accessories. Starting from a good pair of shoes — flats, stilettos, biker boots — to a couple of statement bags and, of course, some costume jewelry. I prefer to buy mine at vintage fairs and in small shops in Florence or Paris. As I tend to lose ear clips all the time (my ears are not pierced), I like to wear different ones — a bow in one ear and a chandelier ear clip in another, for example.
Best style advice received…
I have two, which are absolutely contrary, but I am using both. "In fashion, it is never too much," from Anna Dello Russo. And "Once you've dressed, and before you leave the house, look in the mirror and take at least one thing off," by Coco Chanel.
When traveling, I always pack…
A swimsuit and my sports uniform, as I try to do yoga every day, even during my Fashion Week marathon; my favorite costume jewelry as I can't complete my looks without it, a pair of flats and fashionable sneakers (for my days-off); my notebook and a pen — I can't live without writing my thoughts and observations on paper.
Most exciting thing about finding new design talent is…
That I can share my knowledge and experience with someone who really needs it and who can use it to create something new and exciting. I think the biggest pleasure in life is when you create something and when you can see the result of your work, and that's what I can see all the time when I work with designers.
The best thing about Mercedes-Benz Kiev Fashion Days…
That it shaped the fashion industry in Ukraine and put the country on the world's fashion map. Who can ever believe that designers from Ukraine will be sold in international stores and mentioned by international press worldwide? I am so happy we achieved all the incredible results with my team and our designers in just five years. More to come!