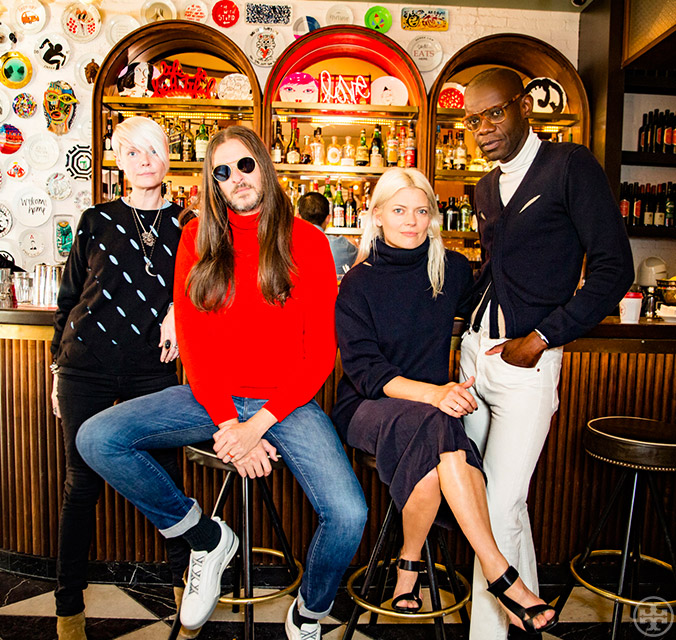 Victor Glemaud is back — the label, that is, since the man has been a stylish fixture and sounding board in industry for years. This fall, the New York-based designer is relaunching his eponymous men's wear line and adding, for the first time ever, a women's collection too. His fan-favorite signatures are still there, including fantastic knits (he originally launched in 2006 with a double cardigan spliced together from his father's old sweaters) and a cool nonchalant vibe that speaks to his downtown circle of industry friends (a few of whom he corralled for this Tory Daily exclusive). Here, alongside stylist Kate Young, editor Kate Lanphear and muse Marc Kroop (whom he dubs "VP of Pretty Much Everything"), Glemaud talks about his new designs and their inspiration in a little negative space.

The inspiration behind this collection…
Last summer I slid into Paris to see friends and family, eat and wander around before attending a wedding in Italy. I adore the Musée d'Art Moderne, which was showing a retrospective of Lucio Fontana. Why not? I was blown away by the breadth of the work! I'm typically very quick at galleries and museums — I walked through this exhibition twice, taking a lot of pics… There was so much to see and explore. I fell in love and was so inspired.
What drew me to Fontana's works…
The Fontana slash is chic, graphic, timeless and super groovy — I've always wondered why no one has referenced it before in clothes, especially knitwear.
I love sweaters and wear them throughout the year. For me, it's what I'm best known for, and they appeal to both women and men so why not focus on that for awhile? An editor friend recently told me I was a "knit resource" and I sort of like that. Absolutely!
Favorite way to wear one of my sweaters…
In the arms of someone you love! ;-)
My style icons…
Tonne Goodman, George Cortina and my father, Victor Glemaud Sr.
The group I assembled here for this photo shoot…
We are all great friends as a group or tête-à-tête! We have fun together, know each other's families, travel together, talk about more than just fashion, laugh a lot, provide immeasurable support and guidance while remaining extremely loyal and honest. 'Nuff said!
And how I styled their looks…
Both Kates (Lanphear and Young) abhor color, unsurprisingly, as most of my gal pals avoid it. I chose navy and charcoal for them, as a quiet attempt to introduce "color" into their worlds and let them figure it out from there.