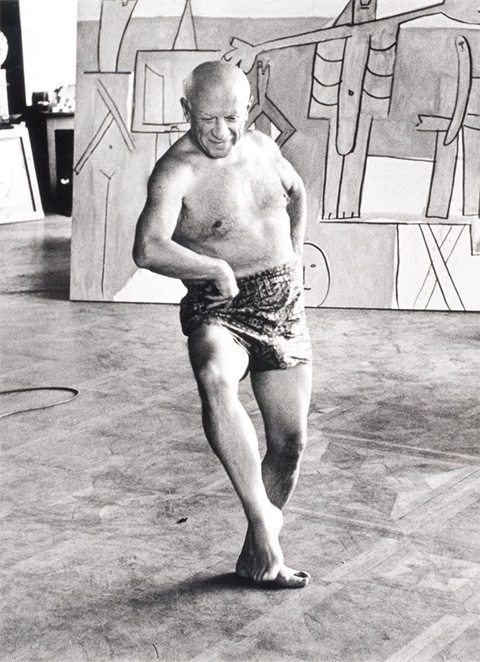 According to Susie Cox in her book
Susie's Sun Signs
, Scorpios are the most powerful sign of the year. "In fact," she writes, "your power is so strong that you need to learn how to harness it. If not, it's so hot that it can burn you or others if it's not directed carefully." Pablo Picasso was a Scorpio, born October 25, and Cox's other descriptions well apply to him too. This zodiac sign is intense, often misunderstood, charismatic and with "a penetrating stare [that] makes you feel as if you are being hypnotized by their magical power." Picasso's fierce gaze was famous, so much so that decades later it would be immortalized by protopunk rockers The Modern Lovers in their 1976 song "Pablo Picasso." "He could walk down your street and girls could not resist his stare," they sang. "He was only 5'3″ but girls could not resist his stare…"
To discover more about this month's horoscope from Cox, now that we're in the water sign of Scorpio (October 23rd – November 23rd), keep reading.
Scorpio
Happy birthday, dear Scorpio! Mercury is in your sign from November 2nd to 21st. That is the window in time of communication for you. Write your Christmas or holiday cards, go to parties and be as social as your Scorpio can handle.
Sagittarius
Your sign is one of the best travelers of the Zodiac. The weekend of November 12th to 15th is a perfect time for a road trip before the holidays arrives. If you're in the mood for a relaxing time, this is it!
Capricorn
The next few weeks will bring you extra joy, Capricorn. The Mars, Venus and Jupiter group of planets are aligning with you now. When you get invited to a party… please go and have fun. You will likely meet some new friends or maybe even a new love interest.
Aquarius
Your power dates are November 17th to 19th, when you will feel ready to be creative and social. Go to a play or concert with friends and get a little wild. You will be in the mood and it will feel so good. You deserve it, Aquarius!
Pisces
There is a line-up of planets in Virgo now until November 7th, which will likely help your flowing Pisces style to become a bit more organized. Make a list and see how many things you can put in their place in the next two weeks.
Aries
Your power dates this month will be October 25th and 26th, when you will likely be presented with a sticky relationship question. Who is in charge? Are you being manipulated or are you getting exactly what you want?
Taurus
The full moon is in Taurus this month on October 27th. You will feel stronger than you've been in quite a while. This is a perfect day to present yourself to the world in a new way. People will be interested.
Gemini
Your sign of Gemini is usually a social success, but don't feel bad if you are in a private mood now. This is a perfect time to stay home and putter. Try not to do anything some days, which is a real trick for you, Gemini.
Cancer
The moon is in the sign of Cancer on Halloween, October 31st. There is a perfect triangle of water signs that night, so this is a good year to get creative and dress up. Maybe being a princess or a creature from faerie land would be perfect.
Leo
There is a power triangle in the sky of fire signs from November 2nd to 4th. Your Leo is a grand fire sign and you will find yourself in high energy activities for a few days. Plan to do exciting events on those days and you will be in the natural flow.
Virgo
You are in for a real treat from November 5th to 8th, especially if you're an early riser. In the eastern pre-dawn sky, the moon will join Venus, Mars and Jupiter for a rare alignment. Yes, it will be worth setting your alarm, because they are all in Virgo.
Libra
You're in luck this month, sweet Libra. Venus enters your sign on November 8th, which is your time to pamper yourself. In addition, Mars enters Libra on November 12th, giving you even more activity and passion.