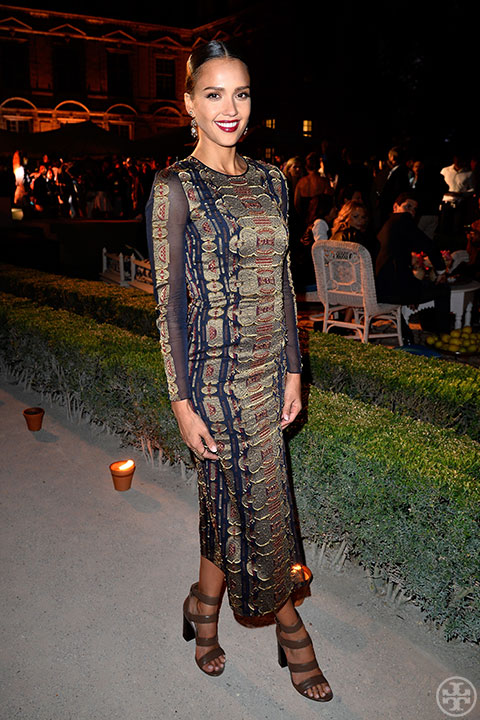 The actress and founder of The Honest Company, here wearing Tory's jacquard gown, shares her tips on holiday style, beauty and healthy living.
My holiday party look…
Classic with a twist. This season, I love separates even more than a dress: a flirty skirt or sleek leather legging with a soft sweater.
And my personal styling tip…
Not too tight! Give yourself some room to dance and indulge.
When it comes to accessories…
Go bold. Pick one statement piece like a chunky chain necklace, oversize bangle or metal cuff and the rest of the look will automatically feel festive.
For the holidays, a bit of metallic adds…
Versatility. You can make it the focus in one great dress, like the look I got to wear to Tory's Paris party. Work it as an accent, like Tory's gorgeous sequin alpaca coat, or treat it as a neutral — I love how unexpected the navy shimmer feels in the Tinsel dress.
My holiday beauty look includes…
I'm all about our limited-edition Honest Beauty Everything Palette because we give you so many options to get holiday glam! It's all about focusing on either the eyes or the lips. Our palette takes smoky eye to the next level with a pewter sparkling finish. Since the holiday season is about party-hopping, I'll switch it up with a soft champagne shimmer on the lid and a bold berry lip.
To stay healthy during the holiday season…
I try not to go cold turkey! Indulgence is inevitable, so I'll give myself one to two days a week. I have those couple of days to motivate me when I work out that I can look forward to enjoying.
My tips for staying fit while on the road…
1. Stay fueled. Don't go too long a stretch without a healthy snack. We need to balance our blood sugar with healthy proteins and fats so we don't feel so hungry all the time. When we're hungry, we'll grab anything and not make the best decisions.
2. Mind the sugar. There's the inevitable crash a few hours later that will make you feel even more sluggish than before, so avoid the roller coaster.
3. Stay active by any means necessary. I try to stick to a regimen, but it helps to work out with friends and mix it up with different classes — hot yoga, cardio boxing, spin — to keep me interested.