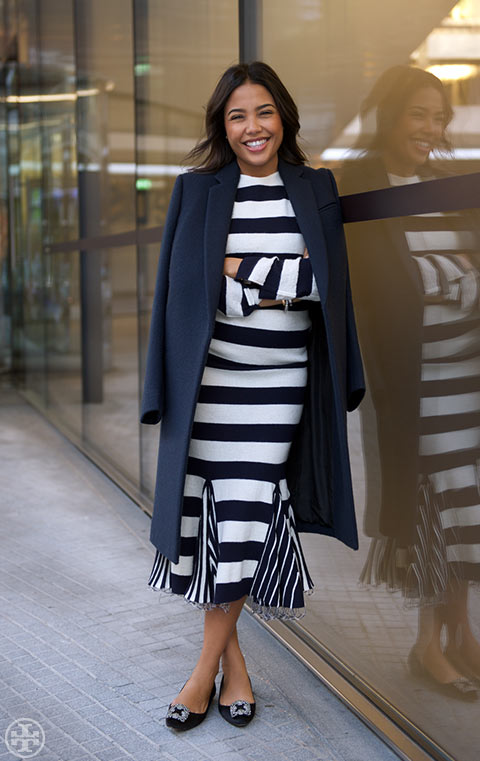 For a glimpse at how Londoners celebrate the holiday season, we skipped across the pond and spoke to Emma Grede, CEO of the global entertainment and fashion marketing company ITB. In the interview here, she shared everything from local intel on traditional eats and drinks to her own gift-giving secrets.

The holiday season in London is like no other because…
You get the full Christmas package in London: chestnuts roasting on an open fire (literally!), insane street decorations and, of course, we've also got the shopping! It's definitely worth checking out the smaller streets like Lambs Conduit St. for the chicest shops, but my current favorite is Albemarle Street, which is the new Mount St.
If you're in town, you must visit…
The amazing Christmas decorations floor at Liberty of London, the ice-skating rink Somerset House and also Fortnums & Mason, which has the best food gifts imaginable (plus the store is so Christmas-y, it really gets you in the spirit).
For a traditional holiday dinner…
It has to be Tomos Parry's new restaurant, Kitty Fisher's; you can order anything on the menu and it will be the best you've ever had!
And the go-to holiday cocktail…
A whiskey sour made with Chivas' 25-year-old whiskey garnished with Morello cherries and served in a heavy-bottomed crystal tumbler.
My holiday traditions include…
In my family my husband and I host Christmas, which is a week's worth of specialness. The most beloved tradition has become "The Grede's Annual Yuletide Cookies and Yum-Yum Jam," a very competitive cookie-decorating competition held on Christmas Eve, where pajamas are mandatory for all participants! At last count we had 25 people at the house, and it's growing by the year!
And favorite holiday childhood memory…
It has to be leaving a glass of brandy and mince pies for Father Christmas. My mum would always make an elaborate mess and eat everything we left out, to show us Santa had actually been there. It brings back such amazing memories, and it's something I can't wait to repeat with my son Grey.
Favorite gift to give…
I am very unplanned and always find myself buying in a rush, so I do repeat buy and the Hermès Ulysses notebook is a favorite — I can't imagine a person who wouldn't want one.
And to receive…
I love to receive anything homemade like pickles or jam… or jewelry — certainly not homemade — from my husband!
How I stay fit/resist temptation during the holidays…
Actually, I cancel my personal trainer consistently during this period, and don't fight temptation at all — Christmas comes but once a year!
My New Year's resolutions…
I've just become a trustee for the incredible charity Women for Women International, which works with women in conflict zones all over the world. They help women survivors of conflict rebuild their lives, which has never been more important than it is today. My New Year's resolution is to make the time I give as impactful as possible, and to spend my energy raising funds and promoting the incredible work they do.