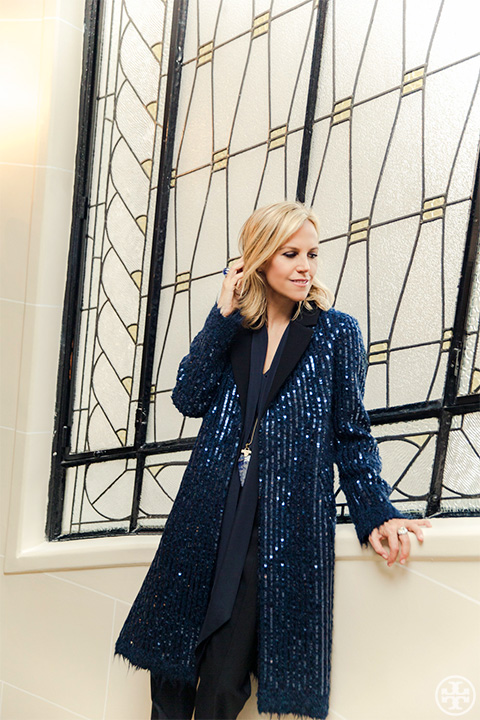 Tory opens up about her holiday traditions and the Holiday 2015 collection…
What are your holiday plans? 
My mother, brothers and I take turns hosting big family get-togethers with all the cousins. And right after Christmas, we are planning on a warm getaway together to surf, swim and fish.
Do you have any favorite traditions? 
Big brunches and dinners. Everyone always congregates around the table (or around the kitchen counter), and we talk for hours. We play a lot of board games, too. It's something my brothers and I did when we were growing up, and our children are carrying on the tradition — we are all competitive about it. And there are a few good singers in the family — not me, though — so eventually the carols and old standards come out, which is always good fun. 
What do you wear during the holidays?
At home, I keep it casual. For dinner, I will wear something relaxed but polished, like an easy bias-cut dress or a silk blouse and a pencil skirt or tailored trouser from Holiday. 
Now tell us about the Holiday 2015 collection. What inspired it? 
Holiday really continues the Marrakech-meets-Chelsea story from Fall 2015, but with an added emphasis on rich jacquards, embroideries and embellishments — such as mosaic-like mirror accents. In fact, subtle shine is a big theme. We have some great looks for the holiday party season.
Such as?
In addition to the mirror embellishments I mentioned, which you'll also find in bias-cut dresses and silk skirts, we have some easy knit styles made from metallic yarns and tinsel-like fabric. There's a fun pom-pom sweater with gem-like details. And cardigans with bejeweled buttons. We even designed a gold fil coupé dress inspired by a vintage dress from my own collection.
What are you wearing here?
The sequined alpaca coat. I especially love the menswear-inspired lapel and frayed hems — it's a nice contrast to the more glamorous details, like the allover tonal paillettes. You could keep this coat on at a cocktail party, and it works. And it adds a dressy touch if you prefer a pant look for evening. Here, I've paired it with the stretch silk tie blouse and flare pant.
What about accessories?
Accessories are the easiest way to add some shine — like a chic saddlebag with stud and semiprecious stone embellishments or a ladylike tweed bag with metallic threading woven throughout. I like to finish a holiday look off with some great jewelry. (I'm wearing the Arrowhead stone pendant necklace in this picture). Even if you prefer to go minimal with a spare black dress, a pretty necklace or ring can add just the right hint of elegance.
What else can we expect?
Color — bright and vibrant color. The rainbow-striped items are my favorite. I love their graphic, bold look. We carried through this idea on whimsical stocking stuffers, key fobs, smaller wallets and the like… things that bring a cheerful pop to the holidays.