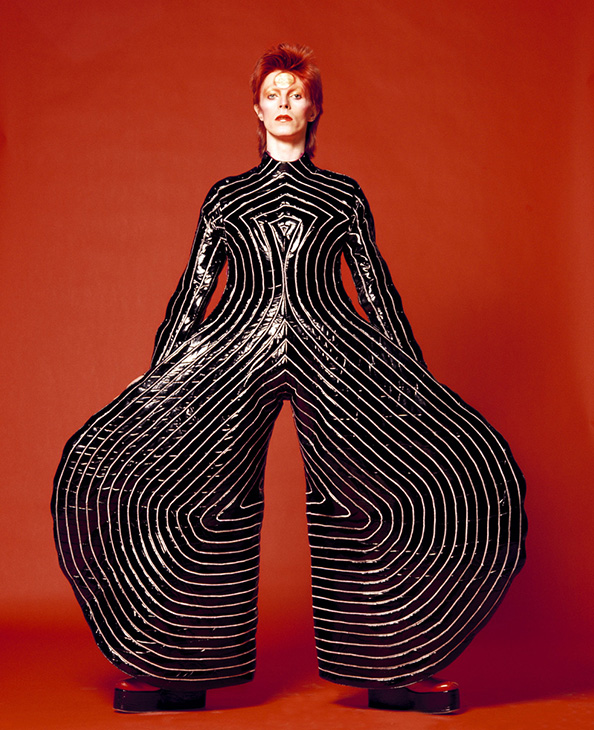 David Bowie
was the man who fell to Earth and brought with him a fearless artistry and style that changed pop culture forever. He passed away this morning at the age of 69 after battling cancer — which didn't slow him down. In the last year, he released an acclaimed album,
Blackstar
, and
Lazarus
, the off-Broadway musical he co-authored and wrote original music for that works as a sequel to his seminal film
The Man Who Fell to Earth
, which Bowie starred in himself in 1976.
For six decades, Bowie has been the chameleon of style and music, changing his sound and look as effortlessly as slipping into a Saville Row-cut suit. From the shockingly ginger red hair and glittering lightening makeup of his Ziggy Stardust years to the louche three-piece suits of the Seventies and Eighties to the dapper elder statesmen of rock, Bowie set a standard that designers, men and, yes, women — who can forget Kate Moss wearing one of his actual Ziggy costumes recently? His look influenced everyone from Alexander McQueen, Chloe's Clare Waight Keller, Dries Van Noten and Raf Simons to just about every young designer who's ever picked up a swath of lamé. Songs like "Heroes" and "Changes", on our Bowie soundtrack here, became anthems of hope and courage for generations — as well as runway soundtrack regulars.
But foremost, Bowie was the epitome of the family man. He wore his heart on his perfectly-tailored sleeve for his wife Iman, whom he met on a blind date in 1990. Lucky for us the Starman will live on in movies, music and his indelible style forever.