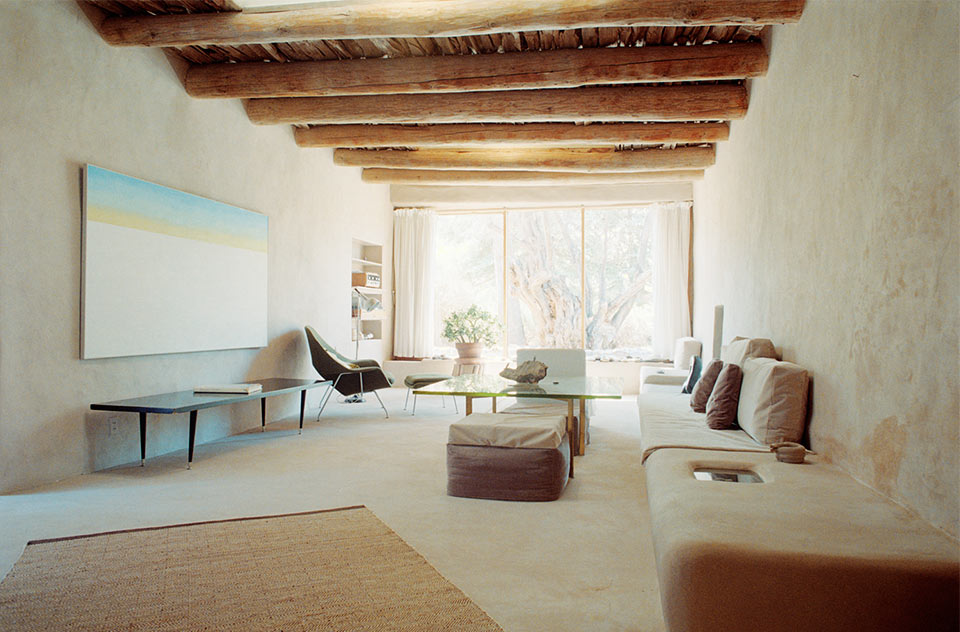 Santa Fe, New Mexico
New Mexico's capital is a virtual art mecca in the Southwest, a hotbed of creative institutions. Prime among them are the Georgia O'Keeffe museum and, in nearby Abiquiú, her home (above) — a national historic landmark. Head to Canyon Road, the city's art district, which packs over a hundred galleries in a half-mile or sign up for the Santa Fe Studio Tour, during the summer, to tour actual artists' studies. For a closer look at Native American art and its history, check out the Museum of International Folk Art and the Museum of Indian Arts and Culture. Interested in more contemporary works? Then don't miss SITE Santa Fe.
Marfa, Texas
Soaking up the art scene in Marfa is like taking a master class in minimalist masters. Surrounded by Chihuahuan Desert lands, this small city owes much of its rich culture to Donald Judd, who moved here from New York in the Seventies and began transforming the place into a haven for permanent works. "Most art is fragile and some should be placed and never moved again," he once wrote. "Somewhere a portion of contemporary art has to exist as an example of what the art and its context were meant to be." So in addition to Judd's own massive sculptures, Marfa (through the Judd-founded Chinati Foundation) is home to large-scale works by John Chamberlain, Dan Flavin, Carl Andre, Claes Oldenburg and many others. Other places to hit up include Marfa Contemporary, Ballroom Marfa and Prada Marfa, which, located to the north, is not an actual shoppable Prada pop-up but an installation by artists Elmgreen and Dragset.
Phoenix, Arizona
Phoenix's Roosevelt Row Arts District follows a common art narrative — neglected neighborhood is adopted by artists looking for cheap rent and then, boom, the place turns into a cool cultural core of the city. Today, RoRo (as it's nicknamed) has grown to include gallery after gallery after gallery — and some wonderful outdoor murals — in addition to dance studios, theaters, art schools and the lot. (You'll find cafes, bistros and ale houses, too.) Experience the neighborhood, plus the rest of downtown Phoenix, on First Fridays, an art walk on the first Friday of each month. The city is also home to the famous Heard Museum, where right now you can take in a great exhibit on Frida Kahlo photographs.
Honorable Mentions
Dallas and its ever-growing Arts District. The highlights: The Nasher Sculpture Center, with a beautiful sculpture garden that includes towering Richard Serra steel curves; the Crow Collection of Asian Art, featuring both modern and traditional works; and the Dallas Museum of Art, which is currently hosting a massive Jackson Pollock solo exhibition that spotlights his Black Paintings — the largest gathering of those revolutionary works ever assembled. Scottsdale — a must-visit for fans of Frank Lloyd Wright. His winter residence, Taliesin West, now houses both Wright's architecture school and foundation and, since 1982, has been a National Historic Landmark. And Taos — it's home to a thriving art colony and has inspired numerous artists through the years, from Agnes Martin to Ansel Adams. Jewelry lovers will likely know Taos for one of its most famous residents, Standard Oil heiress (and turquoise buff) Millicent Rogers, who has her own museum dedicated to local Native American art and jewelry.