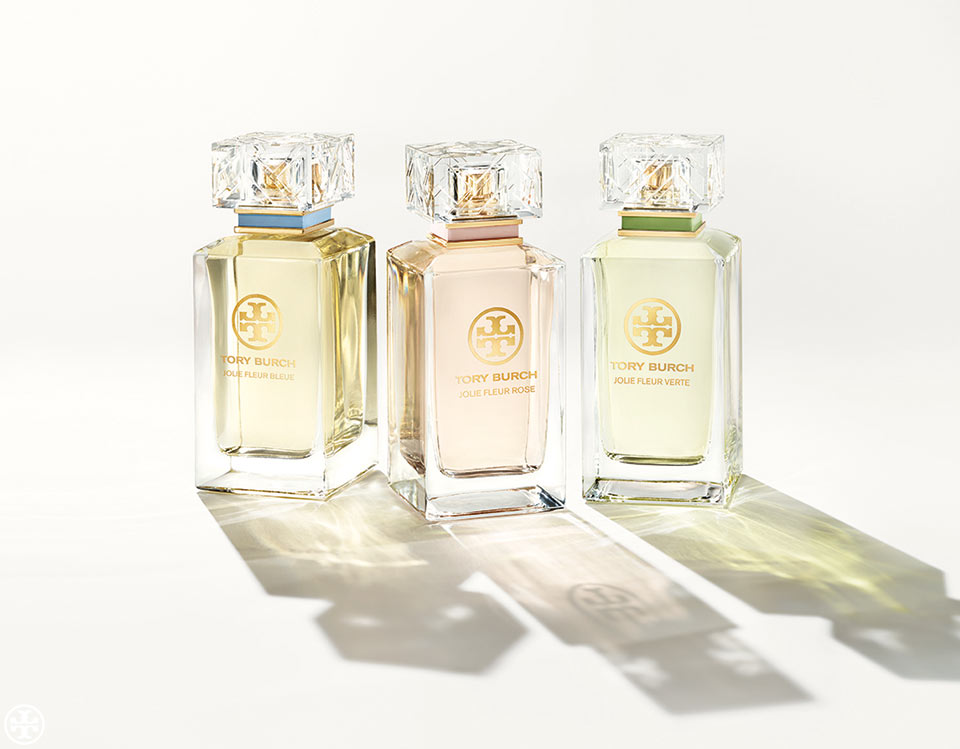 We talk to Tory about the new collection of fragrances, Jolie Fleur, which includes a trio of scents inspired by the flowers and colors in Tory's garden: Rose, Verte (lily of the valley) and Bleue (tuberose).
What was the inspiration behind these fragrances?
Some of my favorite flowers…. Rose, lily of the valley and tuberose — each one is beautiful with a unique and extraordinary fragrance.
What do the key floral notes in each fragrance mean to you?
Rose is a classic fragrance that epitomizes femininity. Lily of the valley is fresh and green, and Verte has an easygoing, tomboy quality that I love. And Bleue — tuberose is heady scent, and we tempered it with notes of grapefruit and vetiver for an understated and elegant mix.
How did you choose the names — Rose, Verte and Bleue?
I am drawn to color — it is the first thing I notice. When we decided to introduce a collection of three unique fragrances, it felt natural to incorporate three of my favorite hues, all of which are found in my garden.
Tell us about your garden…
I worked with landscape artist Perry Guillot on the layout, which was inspired by the original lawn dating back to 1929. We actually pulled archival photos and recreated the footprint of the planted bed areas.
Favorite element of gardening?
I love every aspect of gardening from choosing what to plant to seeing the garden come to life, but my favorite thing is making beautiful arrangements with mixed flowers.
Where does your love of gardening come from?
I get my passion for fresh flowers from my mother Reva — she is an organic gardener. She loves fresh blooms and is always so creative with them. When I was growing up, she had an incredible vegetable garden. Every summer we would spend hours each day weeding and planting. I have continued this tradition. Tomatoes, lemongrass, chives, loofah, watermelon and eggplant — I've planted them all, at one time or another.
What are some flower-arranging tips you've learned from your mother?
1. Always cut the stem with a sharp knife on a diagonal.
2. Each arrangement is like art — different heights are important.
3. At a dinner table, never have the centerpiece too high.
What makes a good gardener?
Patience! When we refurbished the original pool house in Southampton, we added light-pink garden roses. It took two years for the roses to climb all the way to the top of the lattice…