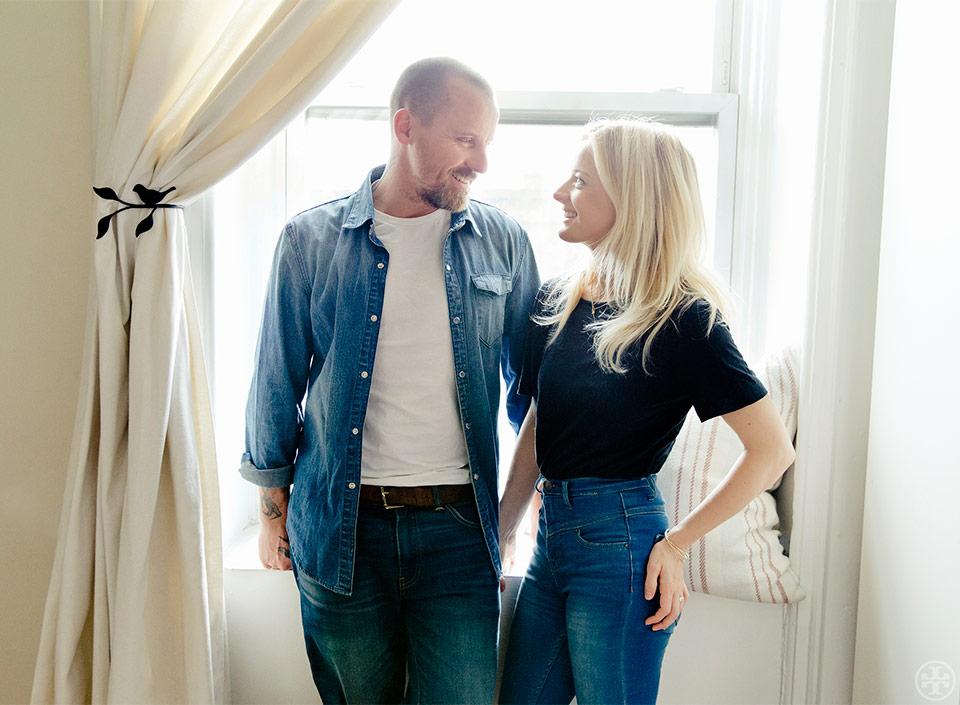 Happy Valentine's Day!
To mark the occasion, we spotlight fashion couple Elle Strauss, Fashion Director of Brides magazine, and her husband, photographer James Dimmock.
We have been together since…
Elle Strauss:
September 2004.
James Dimmock:
Being introduced by mutual friends, we were all headed to the
GQ
Man of the Year party in London 2004 at the Royal Opera House. It was a night I'll never forget and I often bore friends with the tale in great detail.
Our best date was…
ES: Shortly after we met, we flew to L.A. for a vacation and to work on a shoot together and decided to drive California's Big Sur (from L.A. to San Francisco). The scenery was stunning and we stayed in one of those rustic cabins along the way, drinking way too much as the sun set. It was wonderful — in fact, writing this makes me want to do it again. Road trips are definitely a good test for a relationship. I remember thinking if I can spend this long in the car with him (and only two CDs) and still like him, he must be the one!
JD: The night I proposed, we were at the bar at the Gramercy Tavern, waiting for our table. I'm useless at keeping secrets; I couldn't even wait until we sat down for dinner. After the first glass of champagne at the bar, I was down on one knee.
Best gift received from each other…
ES: My babies first and foremost (Imogen, three months old, and Honor, five years old), and then a Chanel diamante bow cuff. I had admired it on a shoot that we'd worked on together, and he surprised me with it for my 30th birthday. I treasure it.
JD: My Tag Heuer Monaco watch. I love it. I'd wanted it for ages but being "far too sensible," I wouldn't buy it. Elle knows exactly what works for me and what I need, even when i don't.
What we like to do together…
ES: Everything; he's my best friend. But going upstate to our house is maybe top of that long list.
JD: I like to think we like to do pretty much everything together. We both travel a fair bit so when we are home, we are pretty inseparable.
What we don't like to do together…
ES: Watching U.K. footie "down the pub." The games are at 9 AM (due to the time difference), so to those he can go alone!
JD: Grocery shopping — Elle hates that!
The first time I saw him/her, I thought…
ES: "Ooooh, hello!"
JD: I first met Elle on a shoot a few years before we got together, back in London. I always make a point of saying hello and introducing myself to everyone on set. I walked into the styling room, there was this petite, beautiful young blonde fashion assistant ironing (burning!) a white shirt. I said, "hi," and felt the blood rush to my face as if I was 14 again. I swiftly made some excuse about checking a Polaroid and headed back to the safety of the studio. It took me a few years, but I got her in the end.
The memory I most treasure from our wedding…
ES: It snowed. We got married at New York City Hall in December and it chucked down with the white stuff. It was so pretty, the best day ever.
JD: Snow had started falling heavily the night before. Never one to compromise her look, Elle's footwear was clearly not made for the conditions. I remember picking her up and carrying her across the slushy streets of SoHo towards Balthazar.
Follow Elle Strauss on Instagram.
Follow James Dimmock on Instagram.
Check out more features from Fashion Week Issues, past and present.