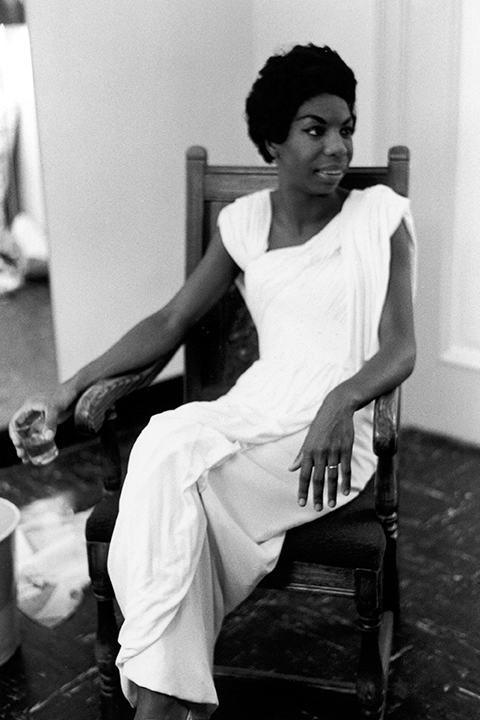 The Pisces ultimate dream, writes Susie Cox in her book Susie's Sun Signs, is "to feel peaceful inside because you are respected for your creative ideas." Those familiar with legendary songstress Nina Simone, a Pisces born February 21, know how true that rings.
This High Priestess of Soul, as Simone was dubbed, was a force to be reckoned with — both in song and in the Civil Rights movement of the Sixties. But she was also famously temperamental, especially when it came to that aforementioned respect for her creative output. More than one journalist noted her tendency to lash out at a noisy audience. "Demanding of her audiences, she alternately coos for their adoration or barks at them for offering anything short of rapt attention," wrote The New York Times, for instance, on the occasion of her Carnegie Hall performance in 2001.
And then there's her performance at a 1976 jazz festival in Montreux, Switzerland, which marks the opening scene in Liz Garbus' 2015 documentary, What Happened, Miss Simone? As the Daily News recounts: "She's onstage… about to begin a pivotal comeback performance. The thunderous applause that greeted her when she walked on stage has died down.
"And then… nothing. The singer looks around judgmentally, fidgets and broods, letting an uncomfortably long silence linger before announcing that she'll never play a jazz festival again, vowing to move 'to a higher plane.'"
According to Cox, "Your Pisces child is the most fragile sign of them all."
To discover your horoscope from Cox, now that we're in the water sign of Pisces (February 18th – March 19th), keep reading.
Pisces
Happy Birthday, dear Pisces. This will be quite a month for you, since there is an eclipse of the sun in your sign of Pisces on March 8th. You are already the psychic of the zodiac and this eclipse will take you to a new level of understanding. Listen!
Aries
Aries is a fire sign and loves moving forward in big jumps. Often so much energy can create starting projects and not finishing them. During the first two weeks in March, you will be able to focus like you haven't in a long time. Plan to do a project during those dates that needs your attention to details.
Taurus
There will be a perfect triangle in earth signs from March 10th to 12th. You will feel productive and ready to tackle situations that have been on the back burner for a while. Surprise yourself with the ease of accomplishment.
Gemini
This next month will bring you amazing business opportunities, especially relating to the arts, creativity, healing and philanthropy. See how you can give back to the world, because you are truly blessed.
Cancer
Your sign of Cancer is the best for nurturing others. The days this month to be with family and friends are February 18th and 19th. These are perfect days for potlucks to share food, stories and laughter.
Leo
The weekend of February 20th will present unusual circumstances around relationships. You might run into an old relationship that needs to be resolved. Do you want to relive that or finally release it? The choice is yours.
Virgo
This is a very special month for you, dear Virgo. The full moon is in your sign of Virgo on February 22nd and is the best time for you to feel self-empowered. It will come naturally, so plan for a special evening and do some howling at the moon.
Libra
Your sign of Libra loves interaction with people. This month, there is a particularly social window in time from February 24th to 26th for you. Absolutely get together with your friends and loved ones on those dates. It will be a wonderful time for an art opening or theater.
Scorpio
Mars has been in your sign of Scorpio since January 4th and will be leaving Scorpio on March 5th. Take care of any last minute financial dealings before that date and you will be right on schedule.
Sagittarius
Mars will enter your sign of Sagittarius on March 5th and will be turning retrograde in Sagittarius and will be there until September 27th! This is your time to rethink your life's direction. If you are in the mood, this would be a great time to make a huge change.
Capricorn
Capricorn is a great sign for money and financial planning. Your power dates this month for business are March 3rd and 4th. Plan to meet with our financial advisors and look at your future on those dates. These are your days to switch things around.
Aquarius
Mercury is leaving your sign of Aquarius on March 5th and Venus leaves on March 12th. Make sure you do some pampering before those dates. Maybe a spa day is in your stars.