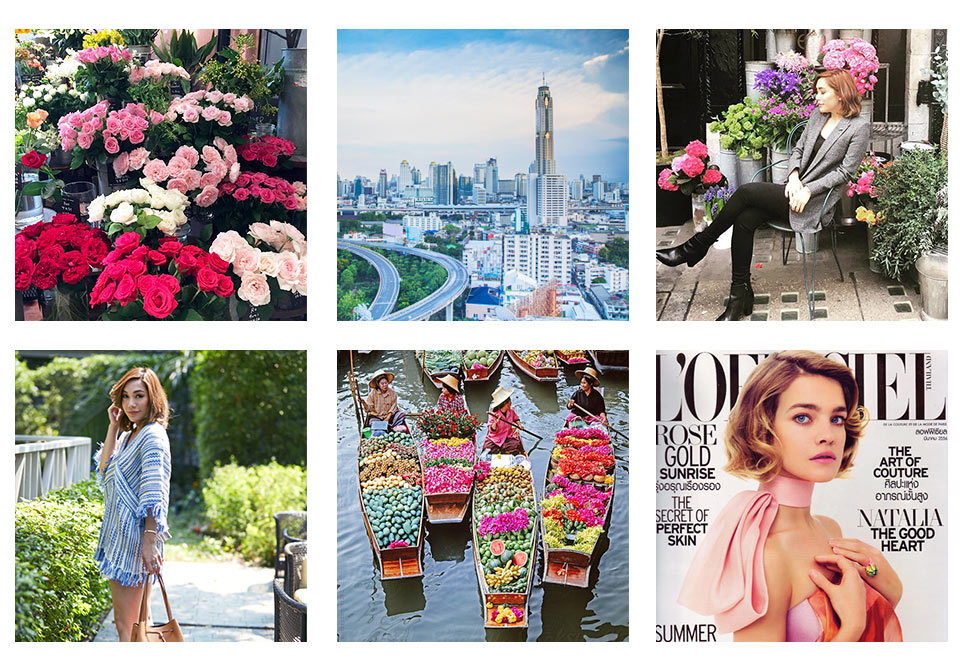 Tory Daily got some one-on-one time with Napassorn Buranasiri, a.k.a. Momay, a former pop singer turned beauty guru in her native Thailand. Currently the Digital Beauty Editor at L'Officiel Thailand — who's also making waves with her Youtube channel Momay with You — she tells us about best makeup practices and where to find her favorite spa in Bangkok. Above, lower left, Momay wears Tory's Gwen tunic and Block-T bucket tote.
My style is…
Classic with a twist. I love classic silhouettes that will never go out of style. Then I add fun accessories to give classic outfits a twist.
My very first fashion obsession…
Beautiful heels. I used to steal my mom's heels and walk around the house, even though they didn't fit.
My styling tip…
Being sexy doesn't always mean that you have to expose more skin. I would balance it out. For example, if I'm already wearing shorts that show off quite a lot of skin, I would pair them with a more covered-up top.
My personal beauty trick…
I always have to have lip balm in my purse. I feel like chapped lips make me look unhealthy and unpolished.
My morning beauty routine…
Drink a big glass of water. It's the best thing you can do both for your body and your skin.
And evening beauty routine…
I always remove my makeup properly. I also use a face mask a lot just to give my skin a little boost.
My favorite scent…
Le Labo Santal 33.
Favorite place to spray perfume…
On my shoulders. Weird, I know.
Best beauty advice received…
"Never leave home without wearing your sunscreen — you will thank me in 10 years," said my long-time dermatologist.
The best spa in Thailand…
The La Mer boutique at Groove Central World. It's the best place to get a facial after a long flight. I love "The Purifying Facial" program the most.