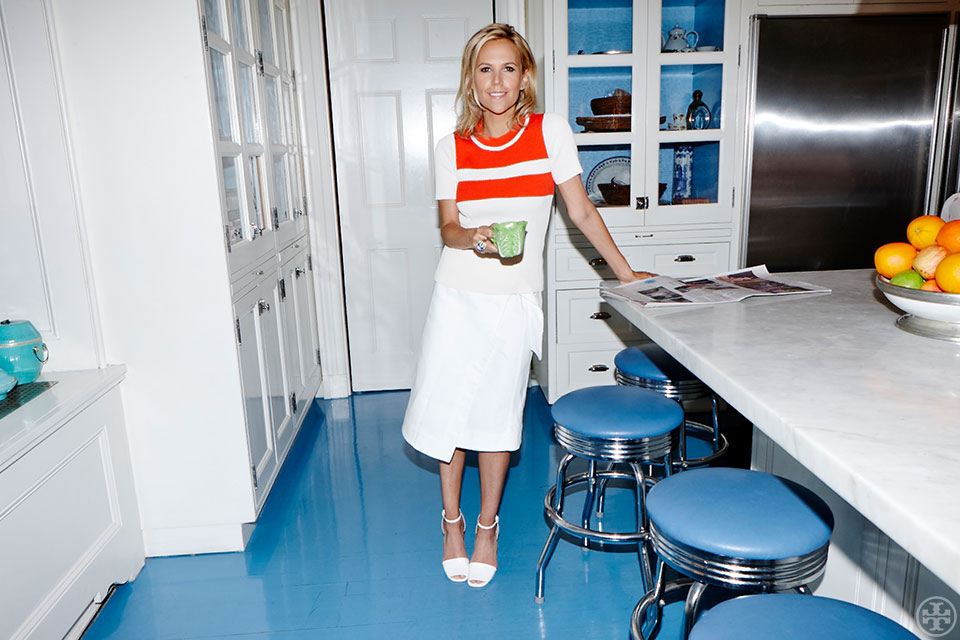 Learn all about the new Spring 2016 collection from Tory.
What inspired the Spring 2016 collection?
This season we were inspired by beauty found in unexpected places, and how it is enhanced through time and nature. We thought about places we have traveled to in Asia, where centuries-old temples have been overrun by nature and antiques have slight imperfections or cracks that only make them more interesting. There's a story and a history there.
How does that idea translate to the clothes?
We emphasized contrasts. There are natural fabrics paired with iridescence, like linen with opalescent fil-coupé or knit sweaters with metallic threads. We detailed simple shapes like tunics and sheaths with smocking, fringe and intricate embroideries.
What about colors?
Colors reflect this idea of contrasts, too. We paired neutrals with brighter hues. For instance, here, I'm wearing our Poppy sweater, with vibrant orange stripes on an off-white ground, and teamed it with a slub denim skirt. It's also a sportier top with a softer wrapped skirt — opposites attract…
Any important silhouettes?
Tunics have always been a part of the DNA of our brand. And for spring, we pushed ourselves to think about them differently — we showed them in new proportions and mixed fabrics and embellishments. There are great tunic dresses with cut-out sides, sporty short tunics, and long tunics for layering over pants.
What do accessories look like?
Accessories include oxidized jewelry and shoes with sculptural heels. On bags, we edged beautiful vachetta leather with opalescent paint, used mother-of-pearl and organic stones as closures and experimented with both high-tech laser-cutting and handcrafted techniques, like a macramé bag that features light-catching pearls. Everything has a special detail.
Do you have any favorite pieces?
In this picture, I'm wearing our Firenze shoe, which we also did in gold. It has a sculpted heel that was inspired by a slice of bark — it goes back to our original inspiration in nature. And I also wanted to rethink the traditional pearl necklace. We made these great necklaces, earrings and pins with enamel painted flower buds… if you look inside, there's a pearl beneath.