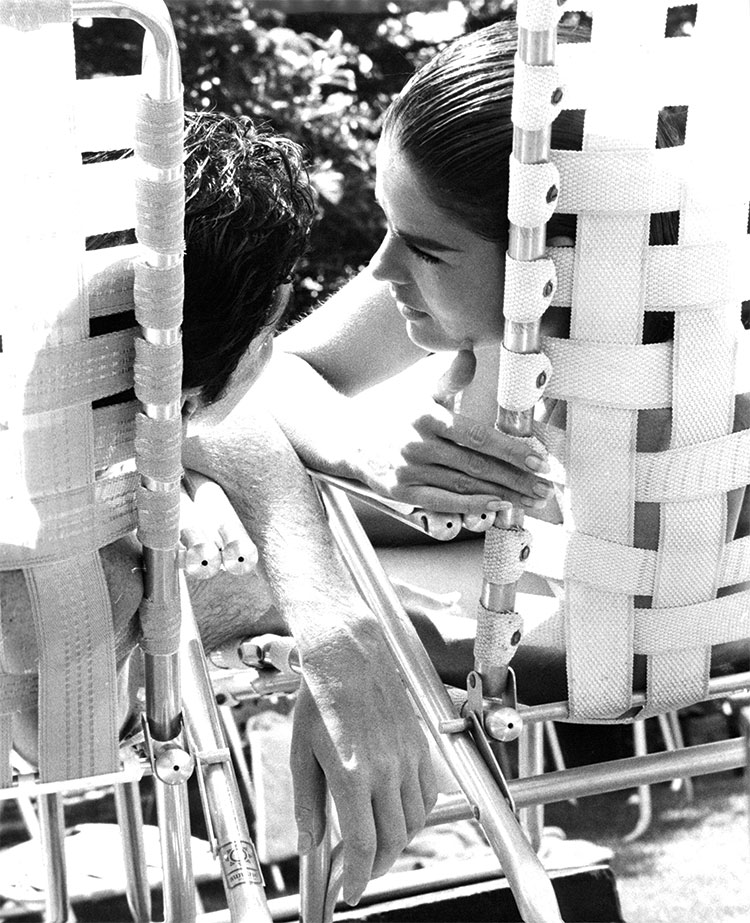 Although the calendar year kicks off with January — and, thus, with Capricorns — by astrological accounts everything begins with Aries. It's the first sign of the zodiac and by those measures, according to astrologer
Susie Cox
in her book
Susie's Sun Signs
, Aries are self-starters and great initiators. "I compare the Aries personality to a sprout just popping up through the ground," she writes. "That little sprout somehow knows it will one day be a huge, magnificent oak tree…" They're the warriors of the zodiac, she adds.
Scan through the list of famous Aries and you'll easily find individuals you could describe as "warriors" and "magnificent oak trees." Like Maya Angelou and Bette Davis, Billie Holiday and Gloria Steinem. Ali MacGraw, above, was another.
The star of Love Story and The Getaway — who started her career as an assistant to Diana Vreeland — catapulted herself to overnight success in the Seventies and became a top fashion icon of the era; every girl wanted her look, its effortless ease and the stick-straight hair parted in the middle. And though she just as quickly skipped out on Hollywood and disappeared from the public eye, that self-starter initiative never faded. She produced her own instructional yoga video (Ali MacGraw: Yoga Mind and Body), became honorary mayor of Malibu for a term (succeeded by Martin Sheen), launched her own line of handbags and pashminas (Ali MacGraw Milagro), was an interior decorator for friends, and threw herself into community service in her post-Tinseltown home of Santa Fe.
Those born under this sign are very romantic partners, adds Cox — and that certainly applied to MacGraw. "I'm an incredible romantic — it runs me," she once told Vanity Fair (which, in the same 2010 article, quoted friend Candice Bergen as noting that romanticism was sometimes MacGraw's "undoing"). And then, of course, who could forget MacGraw's tempestuous love story with Steve McQueen? Aries are also known for their hot temper, for being impulsive and intense. "They are exciting but can be sizzling to the touch," Cox continues.
And, well, McQueen? He was an Aries, too.
Keep reading to discover your horoscope, from Cox, now that we're in the air sign of Aries (March 19th – April 19th).
Aries
Happy birthday, exciting Aries! This will be a good birthday month for you. Mercury in Aries now will ensure you will be heard. On April 5th, Venus also enters your sign. Pampering is in store after that!
Taurus
Mercury will be entering your sign of Taurus on April 5th. The rest of April will be a great time for you to catch up on your correspondence. Next month, Mercury will be turning retrograde in Taurus, so organize now.
Gemini
Your power dates this month are March 28th and 29th when you will likely see change in your life. These dates will only be triggering off longer-term new beginnings. Focus now and you can achieve much.
Cancer
The middle week in April will possibly bring relationship situations that will need your attention. Make sure you have a strong voice and not let others control you, especially during that time.
Leo
Your sign of Leo likes everything on a grand scale. These power dates will bring that level of greatness. These incredible dates for you are April 14th to 16th. Really, you can hardly go wrong then, so plan something important.
Virgo
The planets are being very kind to you now, dear Virgo. Not only is benevolent Jupiter in your sign now, but several other planets in earth signs are in very harmonious relationships with your sun. Expect good things.
Libra
The full moon is in your sign of Libra, but this time it's a lunar eclipse instead of just a regular full moon. The eclipse happens on March 23rd. Use this month to let go of what you no longer want. Maybe it's time to tackle your closet.
Scorpio
This is a great month to rethink your finances. Do you need a new filing system? What about cleaning out your files so everything is more organized? Doing some financial feng shui now will open up new opportunities.
Sagittarius
Both Mars and Saturn are in your sign of Sag now and the moon will join them on March 26th to 30th. If you have spring fever, that is a perfect week for a quick holiday. Be adventurous and try somewhere new.
Capricorn
The last of March and early April will bring your hidden allies, that you didn't know you had. They've been with you all along, but behind the scenes. Now you know why you feel protected.
Aquarius
Aquarius is already the genius of the zodiac and you will believe it this month. Not only is your ability to focus mentally strong now, but you can also easily finish the task. Take on a difficult project now and see how quickly it gets done.
Pisces
Even though the Sun is officially in the sign of Aries, there is still a party of planets in your sign of Pisces. One of them is Venus, who will be in Pisces until April 5th, so make sure you indulge in something delicious before then. Maybe a massage?