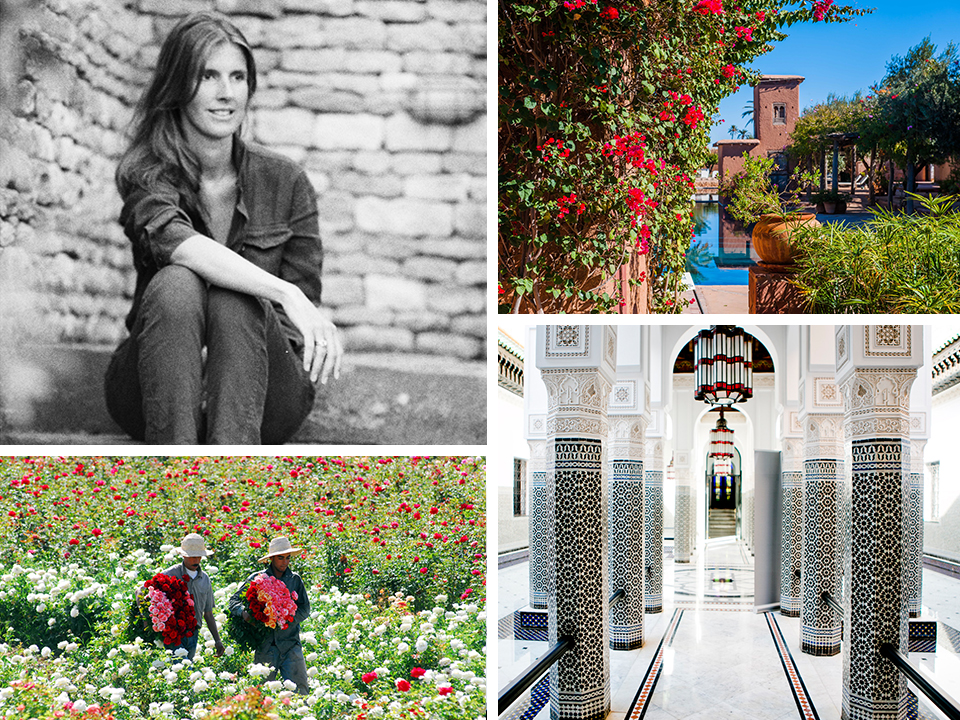 We've met Cecilia Morelli Parikh, one of the co-founders behind popular lifestyle boutique Le Mill in Mumbai. Now we're turning the lens on her partner at the store, Julie Leymarie, a former beauty exec at L'Oreal who moved from India to Morocco. Here, as we continue with our Getaway Issue, she gives us insight into her new home base, Marrakech.
Marrakech is…
Bohemian-chic lifestyle in beautiful nature.
What brought me here…
Love. My husband came to manage his family hotels.
And what keeps me here…
Nature. I used to be a hardcore city girl not really caring for nature; now I'm in love with the different lights of the day and am living in one of the most beautiful gardens of Marrakech, Le Beldi. It will be super tough to leave this…
Packing essentials…
My Céline pouch with all my mess inside (dirhams, rupees, euros all mixed..), my denim from Current Elliott with Chanel shoes and jacket.
First-time visitors must…
Go to Jardin Majorelle and visit the Musée Berbère built by Pierre Bergé presenting his beautiful collection of old oriental jewelry and textile. Go to the medina and have lunch at NOMAD, a delicious menu with organic vegetables and Moroccan-inspired dishes.
During the day I recommend…
Visiting the Mustapha Blaoui antique shop, going to Valerie Barkowski's hidden store to get the most beautiful bed linen, having lunch at Le Beldi Country Club and spending the afternoon around the pool or doing a traditional Moroccan hammam at the spa.
And at night…
Having drinks on the rooftop of the Riad El Fenn facing the Koutoubia — it's Vanessa Branson's beautiful riad with contemporary art — or the bar of La Mamounia. If you're looking for a traditional Moroccan restaurant, go to Dar Yacout, if you're more in the mood for a trendy restaurant with nice music go to Bô & Zin. After dinner, have drinks at the Jad Mahal and enjoy the live band.
The best view can be found at…
The Royal Palm Hotel — it has the best view on the Atlas Mountains with the palm trees in the front.
The local eats and best place to find them…
Jamaa el Fna — hundreds of mini stalls of food opening every day of the year at 7 PM. Order anything cooked: tajines, skewers of lamb, couscous..
And the cocktail to drink if you want to be mistaken for a local…
Mint tea! Locals are not supposed to drink alcohol…
Local words and phrases to know…
Shoukran (thank you). Daba (now! Very useful as they tend to do everything later). Nous nous (means half-half for the local coffee, 50% of coffee, 50% of milk). Mashi mouchkil (no problem). And, of course, get used to getting the answer Inch Allah when you want a confirmation of your booking!
One secret only a local would know…
Go skiing at the Oukaïmeden (a one-hour drive). Leave in the morning by 8 AM, have a great ski session 3500m hight and come back to the pool at 4 PM for tea time in your swimming suit! Only from January to March.
Read Part I of this feature, Morelli Parikh's guide to Mumbai, here.
Explore more features from the Getaway Issue, past and present.